Take performance, precision, and quality to new levels with rugged and reliable solutions built for the long term
Our industrial solutions leverage all of the expertise and experience we've gained as a proven in defense and aerospace for decades.  As part of our standard processes, we: 
Follow the most stringent quality and reliability standards in every aspect of solution development and manufacturing
Apply strict controls on quality, compliance, and on-time delivery to our entire supply chain
Test extensively for failures and perform in-depth root cause analysis to ensure failures will not reoccur after solution deployment
Stabilize Payloads in Motion
Whether on the ground or in the air, you can stabilize payloads in motion with rugged, high-precision, and fully configurable motion control systems. Explore our scalable motion control systems developed and manufactured for complex and demanding industrial applications.
Read the Brochure
Vehicle Control Processors and Network for Autonomous Mining Trucks
An experienced autonomous system supplier for both military and commercial vehicle platforms sought reliable COTS electronics hardware to upgrade their multi-platform autonomy kit in support of a mining truck program that was both cost-sensitive and schedule-constrained. Learn how the resulting autonomy solution, accelerated by the innovation of unmanned systems, supported the mine operator's vision for a highly efficient, productive, and safe environment.
Meeting the Challenge of Direct Sampling of SATCOM Data
A major SATCOM provider came to Curtiss-Wright Defense Solutions to see if there was a way to combine the ultra-wideband sampling performance of the multi-gigabit ADCs and DACs with the high-performance FPGA products into a flexible architecture for a SATCOM product. Learn how the solution applied here can be applied to other wideband communication systems that use S-band or C-band frequency signals.
Any Payload, Any Motion Control Challenge, Any Environment
The challenges our high-precision motion control systems can address are almost endless. Every system is adapted and configured for the application's unique program, technical, and environmental requirements. Learn how we get you exactly what you need.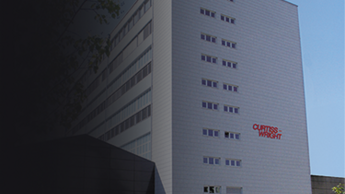 Take a Tour of the Motion Control Facility
Our virtual tour experience provides a close look at how our focus on quality, reliability, and environmental protection allows us to tackle more demanding terrain, reach higher speeds, and seize new opportunities.