Enhance security with TrustedCOTS solutions
Curtiss-Wright's TrustedCOTS embedded processor card family includes single board computers and digital signal processing engines. Designed using cutting-edge Trusted Computing techniques and mechanisms to enable the safe, reliable operation of embedded systems, our TrustedCOTS products provide confidence not only that systems are secure and un-compromised, but that critical data or IP will not benefit adversaries if hardware falls into enemy hands.
Download the TrustedCOTS and Enhanced TCOTS (eTCOTS) for Trusted Computing Brochure
Download the Brochure
Deploy Defense-Grade Security with eTCOTS
Curtiss-Wright's enhanced TrustedCOTS (eTCOTS) pairs our proven expertise and products with the latest innovations from leading suppliers of defense-grade security to the DoD market. Traditionally, defense-grade security solutions required custom hardware somewhere in the system to protect Critical Program Information (CPI). This was an expensive and time-consuming effort that could cause significant program schedule delays. Our eTCOTS approach provides the necessary infrastructure on select processor modules to allow the hosting of IP from Raytheon Intelligence & Space, Idaho Scientific, and Wind River.
The first product in our eTCOTS family, the XMC-528 Xilinx® Ultrascale+ MPSoC XMC mezzanine card, is a high-performance, user-programmable processing and FPGA resource for embedded security applications or use as an FPGA co-processing engine.
TrustedCOTS Embedded Processor Cards
Since there's no one-size-fits-all solution when it comes to Trusted Computing, our selection of TrustedCOTS products are designed within three frameworks that define common sets of features to meet varying levels of security requirements.
Trusted Boot
The TrustedCOTS Trusted Boot security framework provides protection mechanisms for the boot chain, access control for configuration menus, encryption and sanitization routines for non-volatile memory, a key management infrastructure, and other protections to support cybersecurity requirements.
Enhanced Trusted Boot
The TrustedCOTS Enhanced Trusted Boot security framework offers all the protections of the Trusted Boot framework, and adds extra protection with an FPGA-based Root of Security (RoS).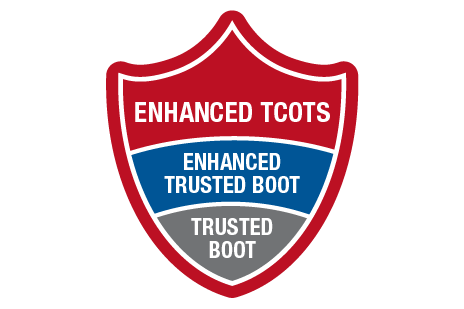 eTCOTS
The eTCOTS security framework includes all the capabilities of the Trusted Boot and Enhanced Trusted Boot frameworks with specialized security IP. Due to the sensitive nature of these protections, we recommend discussing your specific requirements with a Curtiss-Wright representative to learn more.
Trusted Boot
This paper focuses on establishing initial trust in the boot process and the various means to do that, although many of these same techniques are also useful for extending trust to the operating system and application code.