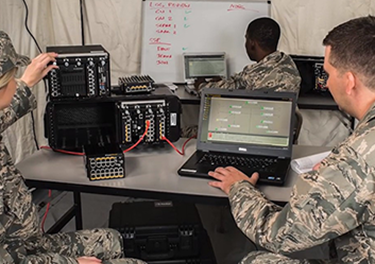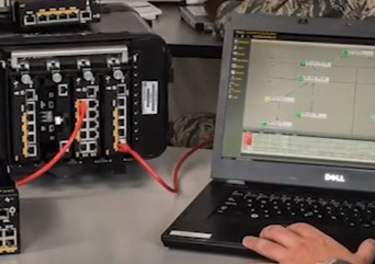 Creating the Data Fabric for Tactical Edge with Software-Defined Wide Area Networking
Published in Military Embedded Systems
Written by Dominic Perez
A software-defined WAN (SD-WAN) can establish a data fabric capable of dealing with any tactical edge scenario where reliable WAN is needed.
More than ever, data for situational awareness and key communications is located in one or more cloud systems. The U.S. Department of Defense (DoD) is actively looking to aggregate and distribute this information through programs such as the Joint All Domain Command and Control (JADC2) strategy and the associated efforts of the U.S. Air Force's Advanced Battle Management System (ABMS), the Army's Project Convergence, and the Navy's Project Overmatch. However, all this data is useless if the wide area network (WAN) chosen is down or unavailable – a situation far too common in denied, degraded, intermittent, or limited (DDIL) communications environments.
JADC2 is one of the most ambitious programs the DoD has ever undertaken. It's going to take years to achieve the JADC2 vision and will require the combination of currently available technologies applied to new problems as well as new technologies to fill gaps. The goal of JADC2, greatly simplified, is to break down existing barriers to communication and situational understanding. To prevent the warfighter being impaired by a lack of information, we need to tear down the communications walls between the domains of land, sea, air, space, and cyber.
All U.S. armed forces and coalition partners need to be able to share data and that data must be shared rapidly – as close to real-time as possible – to connect the shooter with the information from sensors. To realize the JADC2 vision, a platform for data collection and processing will be created to power decision-making with artificial intelligence (AI) and machine learning (ML) algorithms. The foundation of the JADC2 vision is the data fabric for information sharing. A critical piece of that data fabric is the wide area networks (WAN) that link disparate organizations, locations, and domains together. Think of these WANs as the thread that weaves the data fabric that will carry JADC2 to success.
PacStar Communications Solutions
Combining tactical networking equipment and software, our PacStar tactical communications solutions enable enhanced battlefield situational awareness down to the individual warfighter.
Curtiss-Wright Expands Position in Tactical & Enterprise Network Comms Markets with Acquisition of PacStar
The addition of PacStar's product portfolio will greatly expand the breadth of the Curtiss-Wright Defense Solutions division's mission-critical mobile and secure COTS-based processing, data management, and communications technologies, and will enable it to better serve its customers in the U.S. and worldwide.