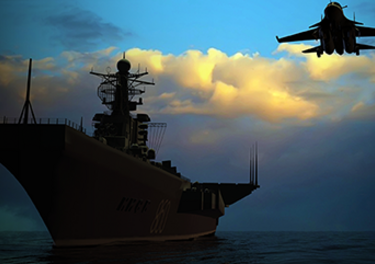 The Clock Starts and Stops Here
Solving problems of phase accurate synchronization can be challenging. Particularly if it includes trying to achieve synchronization of analog signals through multiple analog to digital converters at multi-GHz rates on a single card, or synchronization between multi-boards or systems over wide temperature ranges.
The case for phase accurate synchronization proved to be a conundrum for a group of systems designers. To achieve optimal synchronization, eight of Curtiss-Wright's VPX3-530 transceivers; each with four 2 Gsps data converters requiring cycle accurate synchronization was put to the test. The VPX3-530 was designed for synchronization; however, each needed an external master reference clock to take on the challenge. The VPX3-530 meticulously exploits the XCLK1's clock stopping mechanism to stop the sample clocks to the RF ADCs, halting data conversions under the control of the card's FPGA.  Curtiss-Wright's XCLK1 Multi-Clock Generators were selected to provide RF clock distribution for up to 12 outputs to achieve this goal. 
Synchronization starts with the perfect board.
The VPX3-530 uniquely combines multiple channel high-speed ADCs and DACs with a latest generation user programmable Xilinx Virtex-7 FPGA. It features:
Dual 4 Gsps 12-bit or Quad 2 Gsps 12-bit analog inputs
Dual 5.6 Gsps 14-bit DAC update rate (maximum 2.8 Gsps data rate)
Multi-board, multi-channel synchronization
Xilinx user programmable Virtex-7 VX690T FPGA
Up to 8 Gbytes DDR3L SDRAM (64-bit data paths)
3U OpenVPX compliant
Onboard power and temperature measurement
VxWorks and Linux host support
Air- and Conduction-cooled variants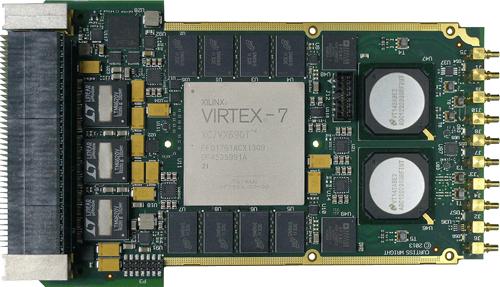 VPX3-530 3U VPX Xilinx FPGA ADC - High Speed Tranceiver
The XCLK1 Multi-Channel Clock Generator offers
Ultra Low Jitter Multi-Channel Clock Generator
Up to six phase matched RF outputs
Selectable internal or external clock reference sources
XMC/PMC format (power only)
It also includes air-cooled and rugged build options
The use of the VPX3-530 along with the XCLK1 offered a masterful solution to a complex problem. The result, a robust system level solution with consistent power up and stable synchronization. Moreover, with the ease of IP integration the systems designers are now able to focus their efforts on the application itself, free of the complexities associated with achieving multi-board synchronization.
Meeting the Demands of Signal Intelligence and Electronic Warfare
With increasingly advanced threats in signals intelligence and electronic warfare, systems need to be reliable and SWaP-optimized