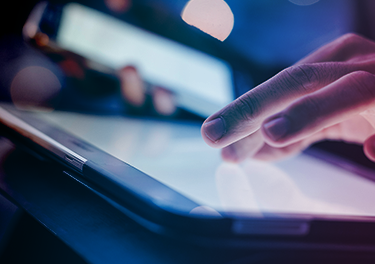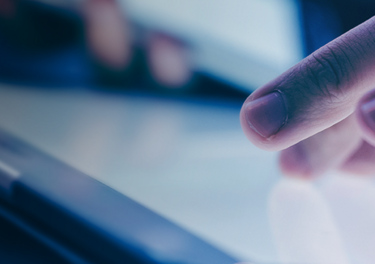 CESMO: A Common Denominator for Tactical Data Link Systems
Minimizing the time between transmission, detection, position fix, targeting, and sharing data among friendly forces is essential on todays battlefield. Cooperative Electronic Support Measure Operations (CESMO) data gives NATO coalition forces this visibility.
 
What is CESMO?
CESMO is the digital protocol NATO developed to support Electronic Warfare (EW) and Electromagnetic Operations (EMO). It provides platforms equipped with sensors capable of detecting radio frequency (RF) emissions, a real-time depiction of the location of all types of ground, air, and sea platforms hostile and friendly. Friendly platforms in the area can use the protocol and information exchange network CESMO provides to exchange collected data within seconds, allowing a live position fix of these signal sources.
The protocol can be used on its own or in combination with other protocols such as Link 16, for example, to extend this situational awareness to the broader community of coalition forces and enhance time-sensitive targeting decisions by providing warfighters with accurate real-time information on the battlefield.
 
Why use CESMO?
In contrast to other data links, CESMO is IP-based and can be exchanged between coalition platforms using commonly available UHF/VHF radios. This is an easy criterion to meet. Ground troops already carry radios that can send and receive encrypted data.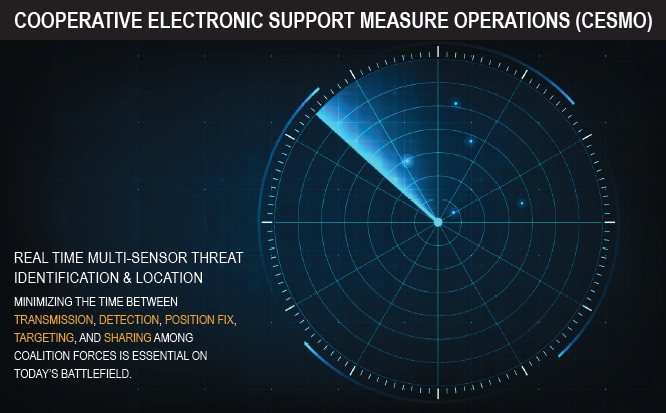 To encourage widespread adoption, the CESMO protocol is designed from the ground up for ease of integration, ease of use, low cost, and broad applicability across a wide range of electromagnetic operations.
CESMO procedures are developed in a way that ensures minimal disruption of the warfighters normal mode of operation.
CESMO is able to operate on low-bandwidth, bearer-agnostic radio networks by employing the same variable message principles as the Variable Message Format (VMF) protocol to minimize message size.
CESMO is easy to implement on existing (in service) ground, air, and sea platform using existing radios in a peer-to-peer architecture.
With the increasingly important role that CESMO plays in NATO electronic warfare and electromagnetic operations, the protocol is being continuously enhanced by NATO member countries. In turn, leading tactical data link solution providers are adding support for the protocol. This process requires highly specialized knowledge and expertise that only a very limited number of solution vendors possess.
One of the key aspects of integrating CESMO is assuring there is interoperability with other tactical data link networks. For this, an intelligent tactical data link gateway that can translate between CESMO and other tactical data link formats such as Link 11, Link 16, or Cursor-on-Target (CoT) is essential.
Sharing CESMO information gives warfighters a consistent and cohesive view of threats and friendly forces, resulting in a more accurate and complete common operating picture (COP). This knowledge increases cooperative opportunities among coalition forces to make time-sensitive targeting decisions and helps to avoid accidental targeting of friendly forces.
For more information about the benefits of CESMO to tactical data link communication efforts and how it can work along other tactical data link networks, read our white paper, Why All NATO Members Need to Support CESMO Data.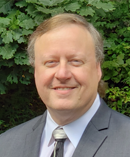 Steven Horsburgh
Director of Product Management & IT
Dr. Horsburgh is the Director of Product Management & IT at the Tactical Communications Group of Curtiss-Wright Defense Solutions. After obtaining his Ph.D. in Physics, he has 30 years of research and development experience designing solutions to complex, large, data-driven applications for commercial and military use. He has 12 years of experience with Tactical Data Links software design and development in engineering and management positions. Before joining Curtiss-Wright, Steve worked in satellite communications and data management for the Naval Research Lab, Mission Research Corporation, and ATK. Subsequently, he joined Tactical Communication Group, LLC (TCG) to architect, design, and manage agile research and development projects related to Tactical Data Links, including Link 16, VMF, CoT, and CESMO. Curtiss-Wright acquired TCG in March 2019, and Steve continues to manage R&D, Marketing, and Information Technology projects.
Tactical Data Links Made Easy
We simplify tactical data link (TDL) communication with standards-based solutions that are designed to improve tactical communications.