Configurable FPGAs: Life Beyond Point Solutions
Most programs use some form of FPGA sensor processing for defense applications but typically the system design differs from application to application.  The investment required to develop a new system, from the ground up, for every application can be costly and time intensive.  For example, every antenna design can be different depending on the application space or the spectrum that a systems designer is trying to attack, or operate in, for radar systems.  A common configurable sensor processor like the  CHAMP™-FX4 FPGA frees a system designer from the hassle of developing independent and unique sensor processing solutions for every antenna design.  Having a common, configurable, sensor-processing device allows defense primes to be more competitive for a host of potential application spaces.
Not a Point Solution
The CHAMP-FX4 6U OpenVPX Xilinx Virtex-7 FPGA processor card is uniquely designed to be the heart of a sensor processing subsystem.  Designed to be a suite solution, the CHAMP-FX4 is a trusted, configurable solution for customers looking to integrate with multiple antennas or applications for radar systems.
The CHAMP-FX4 is just one of the leading 6U products in Curtiss-Wright Defense Solutions' family of user programmable Xilinx Virtex-7 FPGA-based computing products.  Its unique design has also been proven to meet the needs of challenging embedded high-performance digital signal and image processing applications.  The combination of high processing density and I/O flexibility makes the CHAMP-FX4 FPGA processor card the perfect choice for many commercial or rugged embedded applications.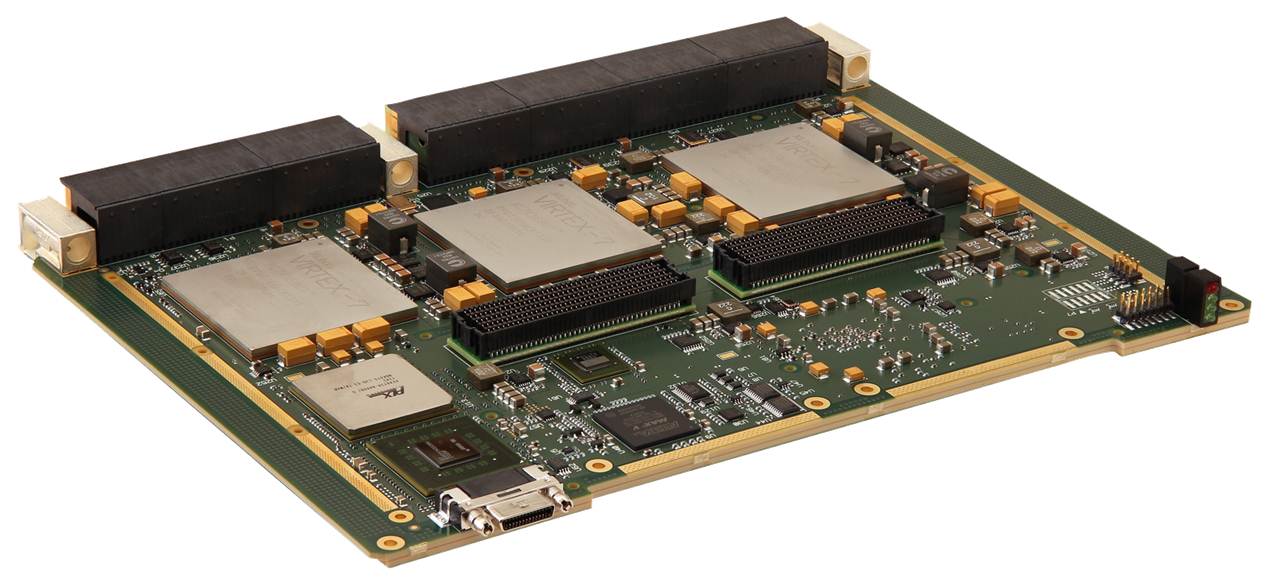 Investing in a sensor, digital signal, or image processing solution that utilizes the CHAMP-FX4 also allows you to leverage future Curtiss-Wright investments in this area of technology.  The ongoing Curtiss-Wright technology roadmap for configurable FPGA solutions aims to continue to push the limits of FPGA processing solutions in a 6U and 3U VPX form factor, integrating the latest technology from a host of suppliers to build state of the art rugged embedded computing solutions.
CHAMP-FX4 features:
Three user-programmable Xilinx Virtex-7 FPGAs
Two FMC interfaces with 80 differential signal pairs or up to x8 SERDES
Onboard PCIe Gen3 switch
Onboard SRIO Gen2 switch
Xilinx ZYNQ FPGA with Dual ARM Cortex A9 processor
Air-cooled and conduction-cooled versions are also available
Interoperability for Optimal Performance
Customizable solutions can be designed using many of Curtiss-Wright's interoperable components.  While the CHAMP-FX4 FPGA allows a systems designer to create a reconfigurable sensor processor subsystem, the Intel® SBC 1957 provides control.  There is also the compliant Fiber Optic I/O component for high-speed processing support.  Additionally, network switching and the CHAMP-XD2 digital signal processor are powerful essentials.  This interoperable collection of components gives Curtiss-Wright the green light to continue the roadmap of 6U VPX FPGA processing, allowing defense primes the ability to move to future generations of hardware by adding customizable capabilities to sensor processing products. 
Learn more about the capabilities of the CHAMP-FX4 by reading our recent case study: Upgrade Airborne Radar within Power, Cost & Temp Constraints