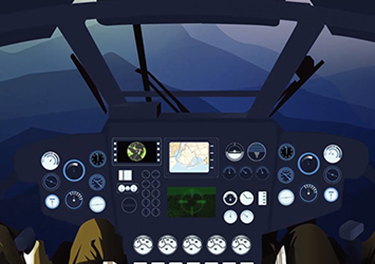 Mission Displays in Demanding Environments
Rugged LCD Mission Displays
Enabling your team with the correct equipment is vital for mission success. For many civil and military airborne, ground and naval systems, video is a core component. Ensuring your team can view this video in demanding environments has never been as important.
During a mission, operators will need to access available video streams from moving maps, sensors, uplinks or mission computers, to ensure they can respond to the situation, their mission displays must be designed to perform in any environment with the ability to work with multiple inputs.
Curtiss-Wright's LCD mission displays extend from 6.5" through to 21.5" units. These rugged displays offer leading edge functionality including multiple video inputs, VGA inputs, picture-in-picture facility, video freeze frame and digital zoom. Mission displays should support multiple video input and simultaneous display, excellent full daylight and night vision operation and full video management integration.
Most popular inputs include: FLIR and long range daylight video cameras, moving maps, computers and radar.

Characteristic of rugged mission displays should include the ability to withstand physically demanding environments. As well as the temperature extremes, the display must be designed to survive high levels of vibration, shock and acceleration, very humid conditions, environments where salt spray, mist, fog, sand and dust will be present, and pressure variations due to altitude changes.
The front of the display must be protected against impact damage. The display should remain immune to external electromagnetic fields, whether radiated or conducted, and must itself radiate a minimum of electromagnetic energy to avoid disruption to other equipment on the platform. The power supply of many platforms is subject to varying levels, dropouts and transients, through all of which the display must continue to operate without interruption.
To provide customers with confidence that all these characteristics have not only been designed for the display but have been validated, mission displays should be tested to one or more established and widely recognized standard.
For airborne applications, the RTCA DO-160 standard for environmental testing is most appropriate.
For other military applications, MIL-STD-810 (environmental) and MIL-STD-461 (EMC) represent standard practice.
For equipment designed for both airborne and ground scenarios, an array of tests that demonstrate compliance with each of these standards provide maximum confidence that the product will provide uninterrupted service in the most demanding conditions.