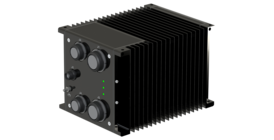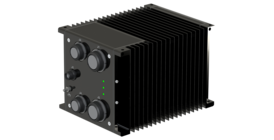 The MPMC-9321 is a rugged 3U 2-slot integrated subsystem that provides high functional density in a small package.
Key Features
Rugged conduction-cooled embedded system
Supports up to two 3U VPX processor boards including Intel® Xeon®, NXP Power Architecture, or Arm-based SBCs
Supports up to four XMC sites
Flexible cooling

Natural convection
Baseplate cooled
Applications
Mission Computer
Software Defined Radio
Video Capture
Networking
Electronic Warfare
MPMC-932x 2-slot 3U VPX Modular Computer
Reduce your program risk and speed your time to market with the MPMC-932x family of 3U 2-slot rugged modular computer systems. These leading edge, flexible and rugged processing systems can be readily configured to meet the needs of any military or aerospace requirements, from benign laboratory to harsh avionics environments. The Curtiss-Wright MPMC-932x rugged 3U 2-slot integrated mission processing system provides the highest functional density available in a small package.
As a natural convection-cooled system, the MPMC-932x processor system is designed for reliable operation in harsh environments without the need for base plate or forced-air cooling. Typical applications for the MPMC-932x system include mission computing, avionics, vetronics, software defined radio, video capture and distribution, networking and electronic warfare.
The MPMC-932x system is equipped with unprecedented processing power, and provides all of the necessary elements required of modern mission computers including a full selection of standard and optional I/O. The MPMC-932x has the capability to accommodate up to two Intel Xeon, NXP Power Architecture, or Arm-based SBCs (or one SBC and one mezzanine carrier card) and support up to four XMC cards.
If you need customization of this system to your program requirements, learn more about our system integration and program management services.
System Integration, Engineering, Test Planning & Verification Services
When you have a system integration challenge, reach out to our system design team as early in your program cycle as possible and let a Curtiss-Wright system architect put their system integration expertise to work for you. Our unmatched breadth of system integration capabilities helps to eliminate your design risk to ensure the success of your program's system development, integration, and deployment.
See the Full Scope of Our Services