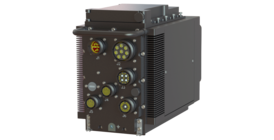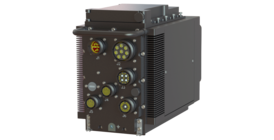 The MPMC-9366-0001 Multi-Purpose Modular Computer is a flexible, high-performance, RF-capable processing system, packaged in a rugged enclosure for deployment in military and aerospace environments.
Key Features
Multi-channel high-speed ADC and DAC
FPGA processing
Removable storage
6-slot 3U VPX backplane
28VDC PSU with 50 ms holdup
Integral high-performance fan and heaters
Operating Temp. -51°C to +71°C
Environmentally Qualified
Controlled by UK export regulations
Applications
MPMC-9366 6-slot 3U VPX Mission Computer
The MPMC-9366-0001 Multi-Purpose Modular Computer is a flexible, high-performance, RF-capable processing system packaged in a rugged enclosure for military and aerospace environments deployment.
The system has six ADC channels of up to 4 GS/s and up to two 4 GS/s DAC channels backed by Xilinx FPGA data processing. A Power Architecture-based single-board computer (SBC) provides control and additional processing, connected using PC Express (PCIe) over a 3U VPX backplane.
The system processing consists of four Curtiss-Wright VPX3-530 3U VPX Dual Transceiver modules, a Curtiss-Wright VPX3-131 Freescale P4080 SBC, and a Curtiss-Wright XCLK1 low-phase noise clock generator.
The system enclosure provides environmental protection for the conduction-cooled processing modules. The integral aerospace fan can provide sufficient cooling to support an ambient temperature of up to +71°C, while internal heaters support a cold start to -51°C. The system is powered by a 28VDC power supply unit (PSU) capable of supporting 400W with 50 ms holdup and includes power and signal conditioning to meet the most demanding EMC requirements.
The enclosure is designed to support mounting using an ARINC-404A ½ ATR tray with blind-mate guide pins and J-hook hold-downs. A companion ½ ATR tray is also available.
The system also supports a removable storage module that contains and protects a 2.5" rugged SSD. The Removable Media Cartridge (RMC) incorporates a 100 k insertion connector to support frequent removal reliably, for example, to download sensor data.
The system can be readily modified to provide alternative backplane connectivity and, in its current configuration, has a spare 3U VPX slot to support additional IO capabilities.
Note: *This system is controlled by UK export regulations. If imported into the USA, then re-export may be USA EAR or ITAR controlled.