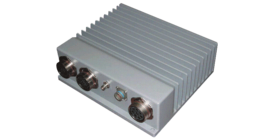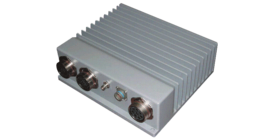 The MPMC-9610 Application Ready COTS rugged integrated system is the per­fect solution to modularly expand capabilities on any system. 
Key Features
6U, single slot enclosure
VPX or VME 64x backplane
Volume Optimized: 3.9 x 9.6 x 11.48 inches
Power
28 VDC @ up to 60W
Processor
Intel or Power Architecture
Subsystem Solutions
Tech refresh - easy retrofit
Ethernet Switch
General Processing
Video & Image processing
Mission processing
MPMC-961x 6U 1-slot Mission Computer
Packaged in an ultra-compact chassis, the MPMC-961x Application Ready COTS rugged integrated system is the perfect solution to modularly expand capabilities on any system. The slim three-inch profile of the MPMC-961x system allows the unit to easily slide into available nooks on platforms making it ideal for space-constrained applications such as Unmanned Aerial Vehicles (UAVs).
The MPMC-961x rugged system is enclosed in a rugged chassis designed to withstand the harsh environments of military and aerospace applications; this single-slot chassis is designed to operate reliability in a multitude of conditions including extreme temperatures, shock, vibration, EMI, input power, and many more.
Optimal system cooling is ensured via thermal transfer between card edges of its conduction-cooled 6U card and the side walls of the system enclosure. EMI filters and gaskets are also employed for system security and increased reliability.
The MPMC-961x modular system can be configured with a variety of boards from Curtiss-Wright Defense Solutions' embedded computing library depending on your system requirements; the MPMC-961x is a perfect system solution whether you need general processing, Ethernet switching, video processing, and more.
System Overview
The MPMC-961x mission computer can accommodate one 6U card and support up to two PMC cards (two PMC hosted by the processor card). One of the strengths of the MPMC-961x is its flexibility. Its open architecture provides unmatched versatility allowing the system to be configured with numerous feature combinations to meet specific program requirements. Two potential system configurations for the MPMC-961x, one as a Gigabit Ethernet module and the other as a high-performance processing module.
Technology Readiness Level
Curtiss-Wright goes well beyond standard industry processes to deliver ruggedized solutions with trusted and proven reliability that cannot be matched in the industry.