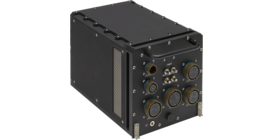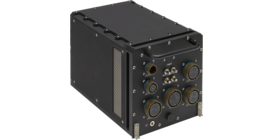 The MPMC-9655 6U five slot embedded system is fully qualified and ready to handle multiple applications in harsh environments. 
Processing
Intel Core i7 or Dual NXP Power Architecture
6U Backplane
VPX, VME or VXS
Size
11.93" x 7.5" x 7.6" (3/4 ATR short)ass 2X
Weight fully populated
<22 lbs
Power
28 VDC input per MIL-STD-704A (including hold-up)
Optional Interfaces

Dual MIL-STD-1553
Video

    2x internal video sources
    Video up to five outputs (XGA, STANAG 3305B)
    Video input, up to five channels (XGA, STANAG 3305B)
    Crossbar switch to select analog outputs

Analog I/O

   10x ADC (0 to 10V DC)
   Voice and tone generator

Digital I/O

   40x Digital I/O (0 to 80V)
8x RS232/422/485
2x 10/100BaseT Ethernet

Other
MIL-E-5400T C
MPMC-9655 6U 5-slot Mission Computer
The Curtiss-Wright MPMC-9655 6U 5-slot embedded subsystem is fully qualified and ready to handle multiple applications in harsh environments. It meets the needs of a wide range of deployable systems and serves as the ideal mission computer.
The MPMC-9655 supports two single-board computers (SBCs) with video hosted on the PMC sites of each SBC, a PMC module that supplies up to 64GB of flash, and a versatile selection of I/O capability. The system also will accommodate five additional XGA and STANAG 3305B (differential) video inputs. These additional inputs are crossbar-switched with the internally-generated video to generate five independent video outputs.
The MPMC-9655 was designed to meet or surpass MIL-E-5400T Environmental Conditions for Airborne Equipment. It passes numerous environmental tests, including Temperature, Altitude, Shock, Vibration, Fluid Susceptibility, Voltage Spikes, Electrostatic Discharge, and more. The sealed compact chassis shields circuit cards from external environmental conditions such as sand, dust, and humidity.
Several standard configurations of the MPMC-9655 are available. They feature either Intel or Power Architecture-based system controllers and VME and VPX backplane fabrics. These systems offer many features common to mission-critical or video display systems, including MIL-STD-1553, ARINC 429, Ethernet switching, and video capabilities.
Custom variations of the MPMC-9655 are available. The system may be ordered as a modified commercial off-the-shelf (MCOTS) product with modifications to the front panel connector set, backplane wiring, or card set to adapt it to the specific needs of an application. A Curtiss-Wright representative can guide you in how the MPMC-9655 can be configured to meet your program requirements.
Note: *This system is controlled by UK export regulations. If imported into the USA, re-export may be USA EAR or ITAR controlled.