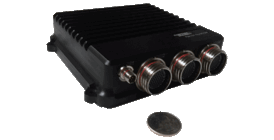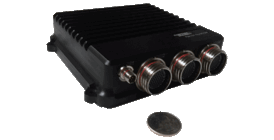 The Parvus DuraCOR 310 is an ultra-small form factor (SFF) tactical mission computer based on a low-power, four-core NXP i.MX6 Quad Arm processor equipped with a rugged Flash disk and PCIe-Mini Card I/O expansion slots.
Key Features
Miniature SWaP-optimized quad-core NXP i.MX6 Arm processor system: 

Size: ~39 in³ volume (approx.) 
Weight: < 1.5 lbs (< 0.68 kgs) 
Power: < 10 W (estimated) 

Rugged IP67 chassis with micro-mini MIL-performance circular connectors 
Modular I/O architecture: up to three slots for PCIe Mini-Cards (for add-on I/O) 
mSATA rugged Flash solid state disk (mSATA/microSD card/removable 2.5" SATA SSD) 
28 VDC filtered MIL-STD-1275/704/DO-160 power supply for aircraft and ground vehicles; optional 50ms power hold-up
Qual testing pending for extreme MIL-STD-810G/DO-160 thermal, shock, vibration, altitude, humidity; also MIL-STD-461F/DO-160G EMI/EMC 
Applications
In-vehicle and airborne rugged mobile computing and sensor integration 
Low-power, multi-core embedded processing based on Arm architecture 
SWaP-constrained platforms: fixed-wing, rotary, manned and unmanned aircraft, and tactical ground vehicles 
Outdoor and underground platforms 
C4ISR technology refresh and LRU upgrades 
Parvus DuraCOR 310 Miniature Rugged Mission Computer
DuraCOR 310 is not currently in active production. Please see DuraCOR 311 or 312 as alternatives.
The Parvus DuraCOR 310 is an ultra-small form factor (SFF) tactical mission computer based on a low-power, four-core NXP i.MX6 Quad Arm processor equipped with a rugged Flash disk and PCIe-Mini Card I/O expansion slots. At less than 40 in3 in volume, 1.5 lb in weight, and 10W power, this miniature multi-core rugged Commercial Off the Shelf (COTS) processor is an ideal solution for size, weight, power and cost (SWaP-C) sensitive mobile, airborne, ground, manned and unmanned vehicle and sensor applications. Optimized for high performance energy efficient processing, the unit boasts a quad-core CPU with HD-class video acceleration, including OpenGL, OpenCL, and OpenVG accelerators.
The ultra-reliable and modular design of the DuraCOR 310 features high mechanical robustness and I/O flexibility to meet the needs of civil and military and aerospace platforms. The unit features an industrial-grade Arm-based Computer-on-Module (COM) tightly integrated with a Flash SSD and system carrier board, which provides a full complement of standard vetronics I/O interfaces (including CANbus, USB, Ethernet, Serial, DIO, Video, and Audio), as well as up to three slots for optional add-on Mini- PCIe I/O modules. In addition to internal mSATA and microSD card slots, the system offers an optional removable 2.5" SATA SSD storage option for high capacity storage and information assurance requirements. Like other DuraCOR models, the 310 leverages both an ecosystem of rugged COTS Mini-PCIe modules (including MIL-STD-1553 and ARINC429 avionics databus interfaces) and Curtiss-Wright's responsive, cost-competitive application engineering services to deliver Modified COTS (MCOTS) variants quickly and without a traditional NRE fee.
The unique combination of small size, low-power multi-core processing, and flexible I/O of the DuraCOR 310 delivers new capabilities for Command, Control, Communications, Computers, Intelligence, Surveillance and Reconnaissance (C4ISR) applications. This compact system supports a wide operating temperature range of -40 to +71° C (-40 to +160º F) without fans or active cooling requirements. It thrives in extreme shock/vibration conditions, high altitude, and humidity, making it well suited for mobile, tactical, aerospace, and ground vehicle applications. Reliably designed for use on-board aircraft and vehicle platforms, the unit will undergo comprehensive qualification testing to MIL-STD-810G, MIL-STD-461F, MIL-STD-1275D, MIL-STD-704F and RTCA/DO-160G test conditions for environmental, power and EMI (thermal, shock, vibration, dust, water, humidity, altitude, power spikes/surges, conducted/radiated emissions and susceptibility).
Housed in a rugged sealed IP67-rated (dust and water proof) aluminium chassis with MIL-performance circular connectors, the DuraCOR 310 features advanced EMI filtering and power conditioning to protect against input vehicle/aircraft voltage surges, spikes and transients. In addition, optional 50ms power hold-up capabilities are supported for MIL-STD- 704F aircraft power switch-over requirements.
Meet the constraints of any airborne platform
Curtiss-Wright products are deployed in a wide array of today's most demanding airborne platforms and applications. Whether enduring the intense heat of a desert tarmac, the sub-zero temperatures encountered during high-altitude flight, or the extreme shock and vibration of spacecraft launch, our products deliver optimal performance under the harshest conditions.