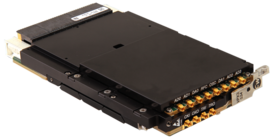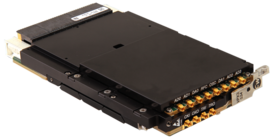 The VPX3-534 combines high-speed multi-channel analog I/O, user-programmable FPGA processing and local processing in a single 3U VPX slot for direct RF wideband processing to 6Gsps.
Key features
2x 6Gsps/12b analog inputs (or 4x 3Gsps/12b)
2x 6Gsps/12b analog outputs
AMD KU115 UltraScale user programmable FPGA
AMD ZU4 UltraScale+ Zynq
High-performance conduction-cooled
VxWorks (contact factory for Linux support)
VPX3-534 3U VPX Kintex UltraScale FPGA 6 Gsps Transceiver
The VPX3-534 is a high-performance single slot RF digitizing transceiver with two 6 Gsps 12bit ADC channels, also configurable as four 3 Gsps ADC channels, and two 6 Gsps very low latency DAC channels.
A Kintex UltraScale KU115 FPGA interfaces with the ADC and DAC devices and VPX backplane connectivity, providing ample resources for preprocessing wideband signals and optionally transferring data to/from other VPX boards in a system.
An embedded AMD Zynq UltraScale+ MPSoC device supports local processing options, and well as high-level system interfaces to the VPX backplane, such as Ethernet.
The efficient design of the VPX3-534 provides optimized cooling for solutions requiring high levels of FPGA performance to over 100W card power.
The architecture is optimized for radar, Electronic Warfare (EW), Signal Intelligence (SIGINT), Radar Warning Receivers (RWR) and Software Defined Radio applications where high-temperature range environments are critical – from -54° C to +71° C. The VPX3-534 can operate as a standalone board, or be connected to other products as part of a powerful signal processing system. Curtiss-Wright offers GPGPU, processor, networking and Intel Xeon D architecture DSP products either as board-level or full system-level solutions including extensive total lifecycle services for long production lifetimes.