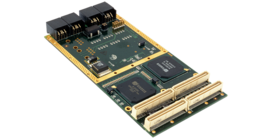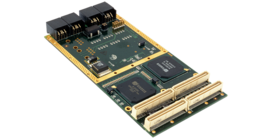 The StarLink II Rugged Switched Fabric Interconnect PMC allows customers to build multi-board DSP and SBC systems with a 5 Gbps switched fabric.
Key Features
Up to 440MB/sec sustained uni-directional throughput
Up to 500MB/sec sustained bi-directional throughput
64-bit, 133MHz PCI-X Interface
PCI to StarFabric bridge (2 ports)
6-port StarFabric switch
4 ports via PMC Pn4 connectors, or 2 ports via front panel RJ-45's, & 2 ports via Pn4 connectors
Robust LVDS physical layer
Low power operation
Supported by Inter-Processor Communications (IPC) Software
VxWorks driver
Integrity driver
Linux diver
StarLink II/PMC-233 StarFabric PMC
The StarLink II StarFabric PMC provides high-speed switch-fabric connectivity to the CHAMP family of DSP boards and SVME/DMV-18x Single Board Computers. The StarLink PMC can sustain up to a 440MB/s transfer rate, allowing users to fully employ the processing power inherent in multi-board systems. The StarLink II also provides on-board StarFabric switching, so that systems may be designed without costly and space-consuming external switch cards. The StarLink II PMC is compatible with the latest generation of PCI-X PMC sites and features additional hardware resources to off-load the local processor during messaging handling, thus reducing message software latencies.
StarLink II is based on StarFabric technology from Stargen Inc. StarFabric is a high-speed serial, switched-fabric technology. The system is based on two types of devices, a PCI to StarFabric bridge, and a StarFabric switch. The elegance of StarFabric is in its simplicity. Memory attached to one node, is made visible in PCI address space to the other nodes in the network. Data movement between nodes is accomplished with the simple act of reading or writing to local PCI memory space which results in a data transfer across the fabric to the destination node.
The StarLink II PMC is available in two configurations, one with all four ports connecting to the Pn4 connector for backplane I/O usage, and the other with two ports on the PMC front panel and two ports on the Pn4 connector.