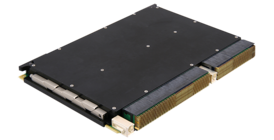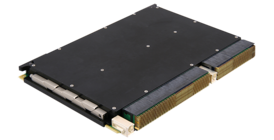 The VPX6-688 is a fully-featured Gigabit Ethernet switch designed to provide a complete networking solution for VPX systems.
Key features
24 ports of IEEE 802.3 1000BASE-T Gigabit Ethernet
Fully-managed, multi-layer switching with CLI, SNMP and web-based interfaces
Extensive networking feature set for segmentation, filtering, QoS and traffic management
Optional optical interfaces
Supports services XMC for routing, security or network services
Available in standard air-cooled and conduction-cooled rugged form factors
Applications
Replacement for VPX6-684 Gigabit Ethernet switches
Standards-based connectivity for VPX embedded computing systems
Robust and secure Ethernet for in-vehicle networks
VPX6-688 Gigabit Ethernet Switch
The Curtiss-Wright VPX6-688 Gigabit Ethernet switch was designed to provide a complete networking solution for VPX systems. Suitable for a wide range of embedded computing and vehicle network applications, the VPX6-688 provides 24 ports of IEEE 802.3 compliant 1000BASE-T Gigabit Ethernet to the backplane. Optional optical interfaces provide four 1000BASE-SX Gigabit links.
Ensuring that mission-critical data is given priority as platform networks become more congested calls for switches with the latest networking features. Today's switches must manage quality of service, ensure efficient multicast stream distribution and enforce policies for filtering and limiting data rates. The VPX6-688 incorporates robust, multi-layer switching services based on proven enterprise-class networking software, with regular updates to help systems keep pace as requirements evolve.
Connecting embedded systems to intra-platform and wide-area networks also introduces a range of cybersecurity threats. Protecting against the ever-evolving array of vulnerabilities requires products designed for network security, with regular maintenance to address new threats. With the VPX6-688, Curtiss-Wright is delivering a networking solution that delivers the latest switching and routing features, and is also designed to address current and future cybersecurity challenges.
To support lifecycle extensions and upgrades, the VPX6-688 is a pin-compatible replacement for the earlier VPX6-684 switch products and support by lifecycle management services from Curtiss-Wright.
Reduce cost, risk, and time to market with COTS hardware
Our broad selection of open-architecture, commercial off-the-shelf (COTS) rugged embedded computing solutions process data in real time to support mission-critical functions. Field proven, highly engineered and manufactured to stringent quality standards, Curtiss-Wright's COTS boards leverage our extensive experience and expertise to reduce your program cost, development time and overall risk.
Read the Brochure
Lowering program risk is more important than ever
In today's aerospace and defense industry, program life cycles are growing longer but electronic component longevity isn't keeping up. With Curtiss-Wright Defense Solutions' Total LifeCycle Management (TLCM), you will gain a dedicated partner with industry insights that enhance your team's capabilities, a proactive DMS strategy, and a custom portal for configuration control, allowing you to focus your resources elsewhere while still keeping a finger on the pulse of your program. The TLCM team works with you to choose technology solutions with longevity opportunities, reduce the risk of component obsolescence, and ultimately increase program stability to mitigate financial risk.