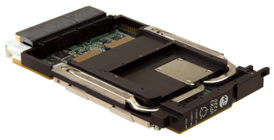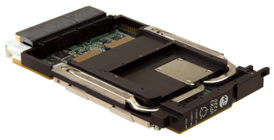 The VPX3-1220 3U VPX high-performance, 7th Gen Intel Xeon processor card is designed for low-power SWaP-constrained applications.
Key Features
Intel Xeon 7th Gen Kaby Lake processor 
Quad-core (8-thread) E3-1505L v6 CPU with Turbo  
Up to 32 GB DDR4 with ECC 
Up to 32 GB SATA NAND flash 
Supports XMC expansion mezzanine 
Available in air-cooled and conduction-cooled versions 
Supports Linux (Fedora and Red Hat Enterprise Linux (RHEL)), VxWorks, Microsoft Windows Embedded, and VMware 
Applications
General computing and mission processing 
Graphics processing driving up to 3 digital displays 
High Performance Embedded Computing (HPEC) systems 
Multi-SBC systems for advanced processing and ISR applications 
VPX3-1220 3U VPX 7th Gen Intel Xeon Processor Card
The VPX3-1220 from Curtiss-Wright Defense Solutions is a high-performance single board computer (SBC) featuring the 7th Generation Intel Kaby Lake Xeon processor. Pin-compatible with our previous generations of Intel SBCs, the VPX3-1220 offers powerful Intel processing in the small 3U form factor and is specifically designed with low-power technologies to meet today's size, weight, and power (SWaP) challenges.
The Intel Xeon processor offers quad-core (8-thread) performance at up to 2.2 GHz. With up to 32 GB of dual-channel, high-speed ECC-protected DDR4 memory, the VPX3-1220 provides up to 34 GB/s memory throughput, maximizing the capabilities of the processor. The processor also features AVX and AVX2 SIMD extensions, accelerating math-intensive algorithms. The Intel Xeon processor includes an enhanced Intel HD Graphics P630 GPU, offering Gen 9 discrete GPU performance with OpenGL for graphics-intensive applications. It also serves as a 24-core GPGPU, with performance of up to 403 GFLOPS and OpenCL support for data processing-intensive applications. The Kaby Lake processor also has dedicated hardware codec support for H.264/H.265/HEVC, accelerating media-intensive processing for up to 4K image streams.
The VPX3-1220 is designed for lower-power applications with moderate to high-performance requirements and features an E3-1505L v6 25W Xeon processor at 2.2 GHz. Turbo operation increases performance up to 3.0 GHz. With up to 32 GB of high-speed SATA flash memory and 512 KB user NVRAM, the VPX3-1220 is ideal for handling complex applications with demanding sensor processing requirements, or high-speed data processing, logging and storage needs. Users can add a Curtiss-Wright XMC-554 storage mezzanine for up to 2 TB of additional storage in a single slot.
The VPX3-1220 also features high-speed PCI Express (PCIe) Gen3 connectivity. The VPX backplane supports eight lanes of configurable PCIe fabric, offering NTB capabilities and supporting 8-lane, 4-lane, and 2-lane port widths. A local XMC mezzanine site supports an independent 8-lane PCIe Gen3 bus directly to the processor. These features make the VPX3-1220 an ideal building block when architecting systems requiring processor expansion or when connecting multiple processor boards together to create a high-performance embedded system for Intelligence, Surveillance and Reconnaissance (ISR) processing.
The VPX3-1220 is supported with an extensive suite of industry-standard operating systems such as Linux (Fedora and Red Hat Enterprise Linux (RHEL)), VxWorks, Microsoft Windows Embedded, VMware for virtualized applications environments, and 3rd party support for safety certifiable operating systems (OSs) such as Wind River 653, Green Hills INTEGRITY-178 tuMP, LynxOS-178, and LynxSecure.