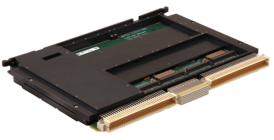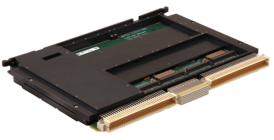 The VME-196 NXP Power Architecture P2080-based VME SBC supports a rich I/O complement per processing node which includes 3 Gigabit Ethernet ports, up to 6 serial channels, discrete and differential digital I/O, SATA, USB 2.0 ports and two PMC/ XMC sites.
Key Features
NXP Power Architecture T2080 quad-core 64b SoC running up to 1.8 GHz with AltiVec

Quad dual threaded 64B cores @ 1.8 GHz
64K L1, 512K shared L2
2 MB Shared L2 Cache
512 KB L3 Cache
ECC on L2/L3 Cache

Dual PMC/XMC sites
Memory:

2 – 16 GB DDR SDRAM with ECC
512 MB NOR Flash, 8-64 GB optional NAND FLASH
512 KB autostore MRAM

I/O:

Two Ethernet (rear) + one front panel
Two EIA-232 serial ports, two USB 2.0 ports, two SATA ports
Configuration modes to support

Dual 1553B
Four EIA-232/422/485 serial ports
Discrete and differential I/O

Software:
Additional Features:

NXP Secure BOOT
Available in a range of ruggedization levels, both air- and conduction-cooled
Applications
SWaP-C consolidation 
Mission computer applications 
ISR applications 
VME-196 VME NXP T2080 Processor Card
Our VME-196 combines the performance and the advanced I/O capabilities of the NXP quad-core AltiVec enabled T2080 processor. The VME-196 is supported by Curtiss-Wright's U-Boot, Green Hills INTEGRITY, Lynx Software Technologies LynxOS, Yocto NXP SDK-based Linux and Wind River VxWorks 6.9 and 7 Board Support Packages (BSPs) and driver suite.
Designed for SWaP-constrained applications, the VME-196 supports a rich I/O complement including EIA-232, EIA-422/485 serial, USB, Ethernet, MILSTD-1553, SATA, TTL and differential discrete I/O. An AltiVec-enabled processor provides four AltiVec engines running up to 1.8 GHz, allowing reuse of your tried and true algorithms, and reducing development cost and schedule, along with slot and power reduction.
The VME-196 supports the Trust Architecture and secure boot of the T2080 for customers wanting to take advantage of these features.
To cost-effectively address a diverse range of military/aerospace applications, the VME-196 VME SBC is available in a range of ruggedization levels, both air- and conduction-cooled. The VME-196 is pin- and feature-compatible to previous generation SBCs from Curtiss-Wright. Ask our sales engineers about integrating the VME-196 in your existing system, using one of our 6U systems or having us design a system for your application. If your application requires a module with a custom pinout, different I/O or custom size, Curtiss-Wright's Modified COTS team will analyze the requirements and modify modules to meet your unique needs.