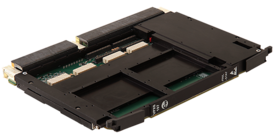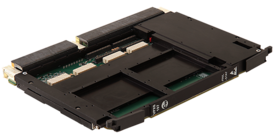 The VPX6-197 6U OpenVPX SBC combines the performance and the advanced I/O capabilities of the NXP's Power Architecture quad-core AltiVec™ enabled T2080 processor. 
Key Features
NXP T2080 quad-core 64b SoC running up to 1.8 GHz with AltiVec 
Dual mezzanine sites 
Memory:

64 KB L1 cache per CPU core
2 MB Shared L2 cache per device + 512 KB L3
Single high-performance memory controller

I/O:

(4) GbE Ethernet ports (2 BASE-T, 2 BASE-KX)
(2) x4 PCIe XMC compatible with VPX6-187
(2) USB 2.0
Standard IPM options (1553, serial, SATA, TTL & diff'l discretes)

Fabric Interconnect Ports

PCI Express (PCIe) expansion plane capability to support a various number of port widths

Software
Additional Features

NXP Secure BOOT support
Available in a full range of environmental build grades
Applications
SWaP-C consolidation 
Mission computer applications 
ISR applications 
VPX6-197 6U VPX NXP T2080 Processor Card
Our VPX6-197 is an OpenVPX-compliant 6U SBC that combines the performance and the advanced I/O capabilities of the NXP's quad-core AltiVec-enabled T2080 processor. Designed for space-constrained applications, the VPX6-197 combines the processing power of quad-core dual threaded 64-bit AltiVec-enabled non-throttling computing with a rich I/O complement. I/O includes four Gigabit Ethernet (GbE) ports, EIA-232/422 serial channels, discrete and differential digital I/O, Universal Serial Bus (USB) 2.0 ports and SATA interfaces.
The VPX6-197 is targeted at the challenging data and digital signal processing needs of tactical aircraft, armored vehicles and harsh environment naval systems. The VPX6-197 supports the life-cycle model of successive technology insertions throughout a platform's lifetime. The VPX6-197 is supported by Curtiss-Wright's U-Boot, VxWorks, NXP-based SDK Linux, and Green Hills INTEGRITY Board Support Packages (BSPs) and driver suite.
Ask our system integration experts about developing a system using the VPX6-197.