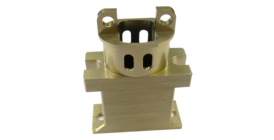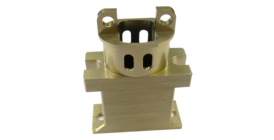 The ACD/BAC/004, nickel-plated and electroless, is an aluminum backshell. It's built for use with CON/KAD/003/CP mating connectors.
 
Features
For use with CON/KAD/003/CP
Applications
Use with CON/KAD/003/CP cables and mating connector
ACD/BAC/004 Backshell for CON/KAD/003/CP
The ACD/BAC/004 is an electroless nickel-plated, aluminum backshell for use with CON/KAD/003/CP mating connectors. The part is supplied with two 4-40 UNC, stainless steel mating screws (ACD/SCW/004), two stainless steel retaining clips (ACD/CLP/003), and clamp bars with Allen head screws.
Aerospace Instrumentation Brochure
Modern aerospace instrumentation systems can be highly complex, and it can be difficult to know how to meet program needs. It's not unusual for requirements to change during a campaign and cause significant delays, and data must be captured reliably no matter what – otherwise expensive additional flights will be needed or months of program data could be lost. Read our brochure to learn how you can reduce your risk with commercial off-the-shelf (COTS) solutions. 
Learn More