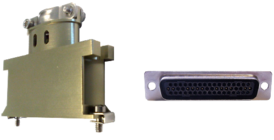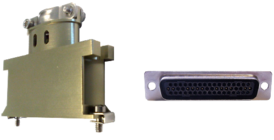 The ACD/CJB/005 is designed to be used with the KAD/ADC/005 and is used to terminate up to 7 thermocouples at a measured temperature.
 
Features
Supports seven thermocouples
One built-in PT100 sensor (typical accuracy of ±0.1°C)
Applications
Use to connect thermocouples to KAD/ADC/136 modules
ACD/CJB/005 Cold junction block for KAD/ADC/136 - 7 channels
The ACD/CJB/005 cold junction block is an optional accessory for the KAD/ADC/136. Designed for mounting on a KAD/ADC/136, it is used to terminate up to seven thermocouples.
The ACD/CJB/005 comprises a Double-Density (DD) CON/KAD/012 connector and a straight-through ACD/BAC/002/B backshell.
The CON/KAD/012 includes one built-in PT100 sensor, which is used by the KAD/ADC/136 for reference junction compensation. This sensor connects to channel 0 of a KAD/ADC/136, allowing the other seven channels to be set to any mode (for example, thermocouple mode, full-bridge mode, or ICP mode).
Aerospace Instrumentation Brochure
Modern aerospace instrumentation systems can be highly complex, and it can be difficult to know how to meet program needs. It's not unusual for requirements to change during a campaign and cause significant delays, and data must be captured reliably no matter what – otherwise expensive additional flights will be needed or months of program data could be lost. Read our brochure to learn how you can reduce your risk with commercial off-the-shelf (COTS) solutions. 
Learn More