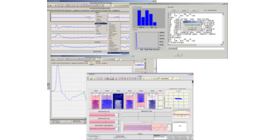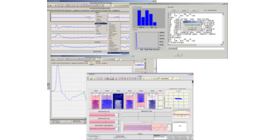 Quicklook is a software tool for real-time visualization and analysis of FTI data.
Key Features
Configurable data displays with drag and drop user interface
Customizable display screens
IENA placed and iNET-X (XidML 3.0.0 only) decommutation support
XidML 2.41 and 3.0.0 compatible
Supports packetizers for ARINC-429, CAN, MIL-STD-1553, and TTP (XidML 3.0.0 only)
Applications
Visualization of real-time data
Quicklook
Quicklook is a software tool for real-time visualization and analysis of FTI data. It is a data view package for single users, intended primarily for lab-bench or pre-flight testing. It allows data to be viewed on user-defined displays using an independent output format for each parameter viewed.
Quicklook is included as part of the DAS Studio 3 and KSM/STE/002 suite of software tools. Quicklook reads XidML 2.41 files generated by kSetup and XidML 3.0.0 files generated by DAS Studio 3.
The Quicklook toolset includes high-fidelity strip charts with threshold checking. Display styles include dials, strip charts, graphs, and numbers. Quicklook is designed for data analysis and processing in real-time. Quicklook is a subset of the IADS software suite.
Aerospace Instrumentation Brochure
Modern aerospace instrumentation systems can be highly complex, and it can be difficult to know how to meet program needs. It's not unusual for requirements to change during a campaign and cause significant delays, and data must be captured reliably no matter what – otherwise expensive additional flights will be needed or months of program data could be lost. Read our brochure to learn how you can reduce your risk with commercial off-the-shelf (COTS) solutions. 
Learn More