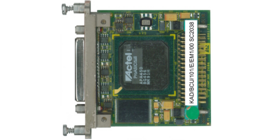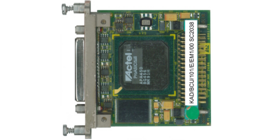 The KAD/BCU/101 functions as two modules in one; an encoder and a backplane controller.
 
Features
Encoder

100% IRIG-106 compliant
Fully programmable
Up to 10 PCM codes at up to 20 Mbps
5 to 250k words per major frame
5 to 32k words per minor frame
4 to 64 bits per word, with even, odd, or no parity
Supports any sync word and sub-frame strategy
ARINC-573/717 compatible output

Controller

Stores up to 15 formats
Supports dynamic format switching
Can operate as a master or slave chassis in distributed systems
Supports fast programming
Supports Cyclical Redundancy Checking (CRC) insertion at the end of minor frames
Applications
KAD/BCU/101 IRIG-106 Backplane Controller and Encoder
The KAD/BCU/101 functions as two modules in one; an encoder and a backplane controller. The encoder is functionally identical to the KAD/ENC/005 and encodes data from any Acra KAM-500 module in an IRIG-106 Chapter 4 PCM stream.
Parameters to be transmitted are stored in pre-defined locations in RAM. Each parameter has a word definition that includes the bits per word, Most Significant Bit (MSB) (sent first or last), and parity. The encoder has differential-ended RS-422 outputs for clock and data, along with buffered TTL outputs for NRZ-L and the bit/word/minor-frame/major-frame pulses.
Up to 15 formats (instruction sequences), can be stored at any time. Format selection is via four single-ended discrete (0-5V) input pins on the I/O (Input/Output) connector. As up to 64 chassis can be programmed using a single programming link, there are also six discrete I/O pins to set a chassis number. These six inputs are pulled to ground internally if left open circuit.
Aerospace Instrumentation Brochure
Modern aerospace instrumentation systems can be highly complex, and it can be difficult to know how to meet program needs. It's not unusual for requirements to change during a campaign and cause significant delays, and data must be captured reliably no matter what – otherwise expensive additional flights will be needed or months of program data could be lost. Read our brochure to learn how you can reduce your risk with commercial off-the-shelf (COTS) solutions. 
Learn More