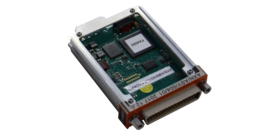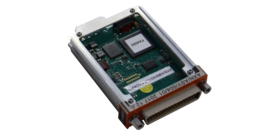 The AXN/ABM/401 is an ARINC-429 bus monitor which combines the capabilities of a coherent message parser with the flexibility of an iNET-X Packetizer. 
Features
Monitors up to 24 ARINC-429 busses
Coherently parses traffic and tags for up to 24,575 messages
Aperiodic transmission of packetized ARINC-429 messages including tags as iNET-X parser-aligned, payload structures per channel or per instrument
Detects five types of errors
Word counter for each bus
Applications
ARINC-429 monitoring and recording
AXN/ABM/401 24 Channel ARINC-429 Bus Monitor/Packetizer
The AXN/ABM/401 is a 24 channel ARINC-429 Bus Monitor / Packetizer. It combines the capabilities of a coherent message parser with the flexibility of a filterable packetizer and an error-detection function, on a single module. Packetizer formats supported are iNET-X, IENA-D, IENA-P, DARv3*, TmNS*, and Ch10.
*DARv3 and TmNS are supported in a variant ordering option, please contact us for more details.
Aerospace Instrumentation Brochure
Modern aerospace instrumentation systems can be highly complex, and it can be difficult to know how to meet program needs. It's not unusual for requirements to change during a campaign and cause significant delays, and data must be captured reliably no matter what – otherwise expensive additional flights will be needed or months of program data could be lost. Read our brochure to learn how you can reduce your risk with commercial off-the-shelf (COTS) solutions. 
Read the Brochure
Axon Data Acquisition Unit (DAU) Product Family Brochure
For airborne applications where reliability and size, weight, and power (SWaP) are critical, the Curtiss-Wright Axon family of data acquisition units (DAU) are ready to take flight. Designed leveraging our decades of experience as a trusted, proven leader, Axons are future-proof, SWaP-optimized, and available in a variety of flexible configurations to meet your exact program requirements.
Read the Brochure