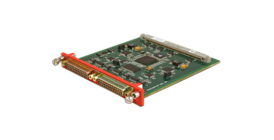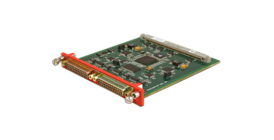 The BIM-232D-2 is a 4-channel RS-232 bus monitor card for use in CurtissWright's EDAU/CDAU/WDAU/NDAU-2000 series products.
Key Features
4-channel RS-232/422/485 bus monitor card
Compatible with RS-232 Honeywell PPT Transducers, Model PPT, PPT-R and PPT2
Compatible with Rosemount Micro Air Data Transducer (Model 2014MB)
Compatible with Paroscientific Pressure Transducers (Series 1000, 6000, and 9000)
Compatible with Kulite pressure scanner model KMPS-1-32/64
Programmable RS-232 characteristics:

RS-232, RS-422 or RS-485 operation
Baud rates from 50 to 230,400 Baud (921,600 in Kulite mode)
5, 6, 7, or 8 data bits
1, 1.5, or 2 stop bits
Odd, even, or no parity

Timestamp per channel with high, low and micro time
As a bus monitor:

Supports EIA-RS-232 standard

Multiple operating modes:

Available on a per-channel basis
FIFO, current value table or double buffer mode 

One (1) external sync. pulse provided per channel
Multiple cards in a single chassis
Programmable data organization to pack two bytes into one PCM word and select which byte is the most significant byte
Data packetization modes:

Gap intervals in increments of 10ms or 249us w/message length qualification
Sync patterns of 3 to 6 bytes in length w/message length qualification
Alternating sync patterns of 2 or 3 bytes per pattern
PCM format controlled and sync pulse output for external system synchronization

Microsoft Windows application software included
Applications
Aircraft instrumentation
Avionics
Lab test
BIM-232D-2 4-Channel RS-232/422/485 Bus Monitor Card
The BIM-232D-2 is a 4-channel RS-232 bus monitor card for use in CurtissWright's EDAU/CDAU/WDAU/NDAU-2000 series products. The card supports serial communications per the EIA-RS-232 standard at baud rates from 50 baud up to 230.4 Kbaud on a per-channel basis (921.6 Kbaud in Kulite mode). High, low and micro timestamping are provided on a per-data-packet basis.
Aerospace Instrumentation Brochure
Modern aerospace instrumentation systems can be highly complex, and it can be difficult to know how to meet program needs. It's not unusual for requirements to change during a campaign and cause significant delays, and data must be captured reliably no matter what – otherwise expensive additional flights will be needed or months of program data could be lost. Read our brochure to learn how you can reduce your risk with commercial off-the-shelf (COTS) solutions.
Learn More