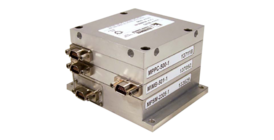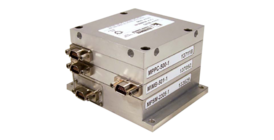 The MnHFCI-2000-1 is a single-channel Honeywell Flight Control Inter-module (HFCI) Data Acquisition Unit (DAU).
Features
Network-based Honeywell Flight Control Data Acquisition and Encoding Unit
Includes Fast Ethernet 10/100BASE-T port for:

acquisition setup and configuration
SNMP status/control
acquisition data transport
time synchronization using IEEE 1588 time

Single-channel HFCI receive-only interface module
SNMP MIB for statistics monitoring
Acquisition bandwidth of up to 5 Mbps
Supports IEEE 1588 for the acquisition of coherent global timing information via the network fabric
Includes 64 MBps of Flash, 32 MBps of RAM, a PowerPC processor
Fully programmable operation
Environmentally sealed package
Small installation footprint
Applications
Avionics data acquisition unit
Air vehicle test, certification, or development
Ethernet-based network distributed systems
System safety monitoring
TTC MnHFC-2000-1 Miniature Networked HFC Data Acquisition Unit
The MnHFCI-2000-1 is a single-channel Honeywell Flight Control Inter-module (HFCI) Data Acquisition Unit (DAU). The MnHFC-2000-1 is a miniature networked encoding unit that processes Honeywell Flight Control messages and delivers packetized DAR packets to an IP recorder. It is designed to communicate between the Honeywell point-to-point data bus and an instrumentation data acquisition network.
The MnHFC-2000-1 delivers packetized data to an Ethernet-based network to record, display, manage and process. It is fully programmable over an Ethernet network using Network Products' ICMS management and configuration system, supports SNMP for status and control and is fully compatible with IEEE 1588 for network clock synchronization.
The MnHFC-2000-1 includes the following components:
MPPC-500-1, processor module
MIMB-501-1, HFCI module
MPSM-2305-1, power supply module
Aerospace Instrumentation Brochure
Modern aerospace instrumentation systems can be highly complex, and it can be difficult to know how to meet program needs. It's not unusual for requirements to change during a campaign and cause significant delays, and data must be captured reliably no matter what – otherwise expensive additional flights will be needed or months of program data could be lost. Read our brochure to learn how you can reduce your risk with commercial off-the-shelf (COTS) solutions.
Read the Brochure