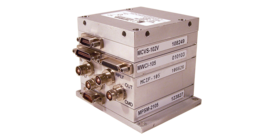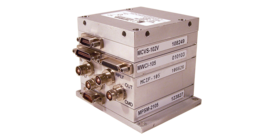 The MnVID-2000 is a network compatible video encoding unit.
Features
Networked MPEG-2 video encoder unit
Provides one video input channel:

accepts RS-170A video signal and NTSC, PAL, or SECAM video format
accepts Composite, S-Video, or Component RGB + Sync

DVD-quality video (MPEG-2 profile MP @ ML)
Provides one audio input channel:

programmable input level, stereo or mono
MPEG-1, level 2 compression

Network communication via Fast Ethernet (100BASE-T)
Supports IEEE 1588 to acquire coherent global timing information via the network
HTTP web interface for dynamic parameter adjustment:

Video

input signal: Composite, S-Video, or RGB + Sync
input format: NTSC, PAL, SECAM, or test pattern
frame size: D1, 1/2 D1, CIF, or QCIF
compression: VBR
compressed video bit rate: 1 to 8 Mbps
timestamp location for each output video frame

Audio

mode: mono or stereo
input voltage in mono mode: 1 to 40 Vp-p; output bit rate: 64,128 or 192 Kbps

Supports audio/video stream timestamp for channel data correlation
Programmable time annotation overlay position within active video region
SNMP MIB for statistics monitoring
Serial port communications available for camera control (e.g., pan, tilt, zoom)
Environmentally sealed package
Extremely small installation footprint
Applications
Video recording or remote monitoring
Cockpit video, HUD, MFD, and external stores
Remote communications
Flight test integrity monitoring
TTC MnVID-2000 Miniature Network Video Encoder Unit
The MnVID-2000 is a network-compatible video encoding unit. The unit accepts composite, S-Video, or component RGB + Sync, with high or low-level audio inputs. Compression bit rate and frame resolution are user-programmable to optimize network bandwidth. The unit delivers packetized video data to other network nodes for display, archive, or telemetry. The unit has a RS-422 compatible serial port to control a remote camera. The MnVID-2000 is fully compatible with IEEE 1588 to synchronize to the network clock for data time tagging.
Aerospace Instrumentation Brochure
Modern aerospace instrumentation systems can be highly complex, and it can be difficult to know how to meet program needs. It's not unusual for requirements to change during a campaign and cause significant delays, and data must be captured reliably no matter what – otherwise expensive additional flights will be needed or months of program data could be lost. Read our brochure to learn how you can reduce your risk with commercial off-the-shelf (COTS) solutions.
Read the Brochure