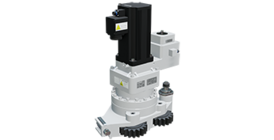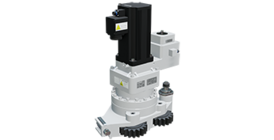 Taking the guesswork out of motion control system design, our pre-engineered Electrical Rotary Gear (ERG) Drives are designed for operation in the most demanding applications and under the harshest conditions.
Modularly designed planetary gearbox allowing different ratios and spur gear while maximizing stiffness and minimizing friction and backlash
Brushless AC servo motor with high-resolution motor feedback
Electromagnetic spring-loaded brake including clutch functionality to overcome overload
No-back element to prevent rotation of manual input shaft
Manual backup
Multiple mechanical load interfaces
Fully configurable
Qualified to MIL-STD (EQT & EMC)
Rotary Gear Drives
For transmission of traverse and elevation movements
As critical components in performing traverse and elevation movements in aiming and stabilization systems, our rotary drive systems are designed to perform reliably in the most demanding circumstances, even while aiming at constant low speeds and in stabilized mode. In addition, as part of our modular suite of rugged and field-proven components, system integrators have the flexibility to choose the product configuration best suited to their application's needs with a streamlined path to upgrade as those needs change.
Perform precision movements reliably with Curtiss-Wright's fully customizable line of rotary gear drives.
Highly engineered to meet the unique needs of military applications
While gear drives are commonly used for industrial purposes, special considerations must be made for defense applications. Curtiss-Wright rotary gear drives are pre-engineered to meet the most demanding defense program requirements, simplifying the development of critical motion control systems to get you in the field faster. Motion control systems in defense applications are often responsible for the controlled movement of complex systems. These systems can include turret stabilization systems responsible for accurately aiming at a target and stabilizing a shot while speeding over rough terrain and high precision drive systems used to position mobile radar or satellite systems. The ERG line of rotary gear drives provides the torque required for quick and smooth system movements that result in highly accurate and consistent load positioning.
Fully configurable for maximum flexibility
The ERG line of rotary gear drives is fully customizable, giving system integrators the freedom and flexibility to define and deploy the exact solution they require. Define system performance with a configurable gearbox while maximizing stiffness and minimizing friction and backlash. Achieve configurable torque and additional safety features with a clutch/brake/no-back combination. No matter the configuration, the ERG line of drives is designed to support the unique needs of military applications while still allowing system integrators to create a system that meets their exact specifications.
The latest servo technologies
With complete customization comes the assurance that each rotary gear drive configuration will include the latest motion control technology and be compatible with Curtiss-Wright's latest inertial stabilization technology. ERG drives have a brushless AC servo motor with an integrated high resolution, multiturn, absolute motor feedback sensor. This high torque servo motor packs ultimate performance in a compact package.
Ruggedized, field-proven design
Curtiss-Wright rotary gear drives are designed for operation under extreme conditions, including heavy loads, continuous vibrations, and high shock. As a result, every component undergoes extensive testing to ensure it performs reliably and accurately in the most rugged geographic locations and the most severe weather conditions.