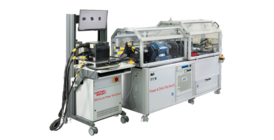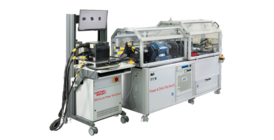 SRU & low power test bench and power & drive test bench.
High power, SWaP-C optimized motion controller (up to 3.4kW)
Field-proven, rugged, and reliable design
Ultra-low latency motion control and stabilization
Modular open standard architecture electronics
High-speed communication interfaces
UI for parameterization and software configuration
Separated safety paths in electronics and software (up to SIL 2)
Available in MIL-STD qualified housing or as a modular integration package
Control one axis per controller; up to three-axis simultaneously
Passive cooling (convection)
Level-40 Test Benches
The test bench performs line replaceable unit (LRU) and shop replaceable unit (SRU) tests and maintenance on Curtiss-Wright motion control products. The fully automated tests, CAD-based failure analysis, and repair instructions are guided step-by-step via a modern graphical-user-interface (GUI) with text, image, and video instructions.
The test bench is delivered with a pre-installed software package equipped with a state-of-the-art GUI to guide the operator interactions with precise and clear instructions. Curtiss-Wright can also provide all the training required for the operation, installation, and maintenance of the test bench.
The test bench equipment can test all relevant LRUs and SRUs, performing maintenance tasks on electronic LRUs and SRUs, and complete functional checks of each circuit card assembly (CCA). The test bench can check all communication, digital and analog interfaces of each LRU and SRU.
The system is equipped with a power supply, a load machine, and a brake for testing high-power drives and motor controllers. The test results are evaluated and the defective LRU/SRU is identified via a combined high probability/efficiency algorithm.