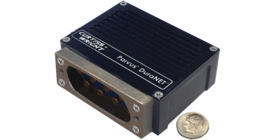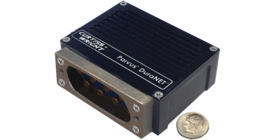 The 20-12 rugged miniature COTS Fast Ethernet switch subsystem with Quadrax is optimized for SWaP-C sensitive embedded computer network systems applications.
Features

Rugged 6-Port 10/100 Ethernet Switch
High-Performance, Rugged Quadrax Connector for Superior Signal Integrity
Layer 2+ Carrier Ethernet Software Management
Ultra-miniature Size, Weight & Power Optimized Design: ~10 inch³ size, ~ 0.55 lb weight, < 5 Watts Power
IEEE-1588v2 Precision Timing Protocol (PTP) Support
MIL-STD-810G/461F/704F Compliant

Applications

Embedded Ehernet Edge Networking Applications
Size, Weight & Power (SWaP) Constrained Platforms
Network-Centric Operations / Situational Awareness
In-Vehicle / Aircraft LAN Switching, Static IP Routing
Fixed / Rotary Wing (Un)manned Air Vehicles
C4ISR Technology Refresh / LRU Upgrades
Ordering Information
| Part Numbers | Description |
| --- | --- |
| NET-20-12-02 | DuraNET 20-12, 6-Port Ethernet Switch, Amphenol Quadrax Connector |
| CBL-NET-20-12-02 | Starter Breakout Cable Set for NET-20-12- 02 (Mating Amphenol Quadrax Connector to RJ-45 / DB-9) |
Parvus DuraNET 20-12 Rugged Ultra-Miniature 6-Port 10/100 Ethernet Switch
The Parvus DuraNET 20-12 is an ultra-small form factor (SFF) rugged Commercial Off the Shelf (COTS) 6-port Fast Ethernet switch system optimized for extremely low size, weight and power (SWaP) constraints onboard vehicle and aircraft platforms exposed to harsh environmental and noisy electrical conditions (e.g. high altitude, extreme shock & vibe, extended temperatures, humidity, dust & water exposure, noisy EMI, dirty power). The unit boasts an ultra-miniature "pocket-sized" design with a physical size of roughly 10 cubic inches in volume, half a pound in weight, and less than 5.0 Watts of power consumption. Delivering optimal signal integrity, the DuraNET 20-12 features specialized Quadrax connector inserts delivering 100Ohm differential impedance matching for all Ethernet signals, along with integrated EMI/power filtering to ensure power input voltage, spikes, surges, transients, and EMI/EMC compatibility per MIL-STD-704F and MIL-STD-461F for aircraft and ground vehicle installations.
The DuraNET 20-12 delivers not only an ultra-rugged and low SWaP system design with superior electromagnetic shielding of Ethernet signals, but the unit also features the latest in carrier-grade, fully managed Ethernet switching technology to deliver new situational awareness and C4ISR capabilities for unmanned air/ground vehicles (UAVs, UGVs) and other SWaP-constrained platforms (helicopter, vehicle) deploying network connectivity at the tactical network edge. This fully managed, Layer 2+ switch provides a powerful set of carrier-grade networking features, including support for IPv4 and IPv6 multicast traffic, Virtual Local Area Networks (VLANs), port control (speed / mode / statistics, flow control), Quality of Service (QoS) traffic prioritization, Link Aggregation (802.3ad), SNMPv1/v2/v3 management, secure authentication (802.1X, ACLs, Web/CLI), redundancy (RSTP/MSTP), precision timing (IEEE- 1588v2), port monitoring, IGMP Snooping, Built in Test (BIT), and data zeroization. The unit also supports Layer 3 IPv4 / IPv6 unicast static routing for attached WAN / radios.
The unit has been qualification tested to extreme MIL-STD-461F (EMI/EMC), MIL-STD-810G (environmental), and MIL-STD-704F conditions. Extended temperature operation from -40 to +85C, resistance to high shock/vibration, humidity, altitude, and dust/water ingress make the DuraNET 20-12 an extremely reliable Local Area Network (LAN) switching solution for technology refresh and new platforms to connect Ethernet-enabled embedded devices, including computers, cameras, sensors, and command-and-control equipment deployed in digital networked architectures at the network edge.
For applications requiring Gigabit Ethernet (GbE) connectivity with MIL circular connectors, see related DuraNET 20-11 model, which provides 8-ports of GbE in a similar miniature form factor.
Reduce Program Costs with Curtiss-Wright System Solutions
Curtiss-Wright delivers complete system of systems integration and support services that reduce interoperability risks, lowers program costs and accelerates time to market. Our system solutions range from air data computers, to data recording and storage systems, networking and communications, mission computers, and video management systems.
Read the Brochure