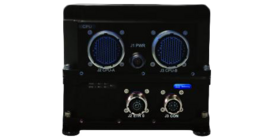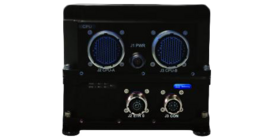 The Parvus DuraWORX 8043 is an ultra-rugged multi-function computing and networking system that combines a high performance 6th Gen "Skylake" Intel Mobile Xeon E3 v5-based mission processor and a Cisco 5915 IOS-managed secure network router into a single modular platform
Key Features
SWaP-optimized Intel mission processor and Cisco IP Router (DuraCOR + DuraMAR)
2.8 GHz quad-core 6th Gen Intel Xeon processor + Cisco 5915 ESR router
Modular I/O architecture: options for integrated Ethernet switch and MiniPCIe or PCIe/104 I/O cards
MIL-STD-810G, DO-160G, MIL-STD-461G qualification (EMI, thermal, shock, vibration, altitude, humidity, etc.)
28 VDC MIL-STD-1275/704 and DO-160 power supply with voltage transient protections and 200 ms hold-up, redundancy options
Rugged IP67 (dust/waterproof) aluminum chassis with MIL-DTL-38999 connectors 
Applications
Scalable LRU consolidation 
Rugged civil/military embedded processor/network services 
Fixed/rotary wing (un)manned air vehicles 
Tactical ground vehicles/outdoor platforms 
Embedded IP networking tactical edge applications 
C4ISR technology refresh/LRU upgrades 
Parvus DuraWORX 8043 6th Gen Intel Mobile Xeon, Cisco 5915 IOS Router
The Parvus DuraWORX 8043 is an ultra-rugged multi-function computing and networking system that combines a high performance 6th Gen "Skylake" Intel Xeon E3 v5-based mission processor and a Cisco 5915 IOS-managed secure network router into a single modular platform designed for highly demanding thermal, shock, and vibration environments. Integrating the capabilities of the standalone DuraCOR 8043 computer and DuraMAR 5915 router subsystems with options for DuraNET Ethernet switching and Mini-PCIe/PCIe104 I/O card expansion, the DuraWORX 8043 is a scalable, all-in-one computing system aimed at reducing size, weight and power (SWaP) and simplifying systems integration (thermal, cabling, power, installation) in tactical computing, IP networking and situational awareness applications. DuraWORX solutions enable functional subsystem consolidation and reduction in the number of Line Replaceable Units (LRUs) together with extreme environmental (thermal, shock, vibration, dust, water, humidity) and EMI performance per MIL-STD-810G, DO-160G and MIL-STD-461F. The 8043 model doubles RAM memory capacity over the 4th Gen Core i7-based 80-41 model.
Based on a powerful quad-core Intel Xeon E3 v5 processor paired with a Cisco 5915 Embedded Services Router (ESR) in a fan-less, waterproof IP67 chassis, the DuraWORX 8043 delivers new computing and communications capabilities for mobile, airborne, ground vehicle applications operating at the tactical network edge. The unit supports C4ISR command and control, image processing, and surveillance requirements, while aggregating peripheral devices (cameras, sensors, computers) from outdoor and embedded IP network infrastructure into a manageable, highly secure IP network. The unit enables Cisco Systems enterprise networking infrastructure to extend beyond the reach of traditional fixed networks into mobile and embedded systems applications. Extensive IPv4/IPV6 routing protocols, firewall and intrusion detection functionality, encryption (AES/ NSA Suite B), remote VoIP phone services, and Mobile Ad Hoc network (MANET) routing for on-demand network connectivity to UHF/VHF/Wi-Fi/ tactical radio platforms is supported.
Due to its modular interlocking chassis design, the DuraWORX 8043 can optionally be fit with either a Cisco IOS or Microchip-Vitesse CE Services-based network switch (based on the DuraNET 30-2020 or DuraNET 20-10 subsystems) to increase Ethernet port count and add managed Layer 2 switching capabilities. The system's computer features two internal Mini PCIe card I/O slots with pre-routed pins going to external connectors for optional avionics databus interfaces (i.e. MIL-STD-1553, ARINC 429) or other COM/DIO/Analog/Network/Video modules. Add-on I/O expansion segments can be coupled with the base mechanical system for additional I/O expansion via PCIe/104 cards. Application engineering services are available for modified COTS (MCOTS) configurations at minimal/no NRE for pre-integration of I/O cards. 
Reduce Program Costs with Curtiss-Wright System Solutions
Curtiss-Wright delivers complete system of systems integration and support services that reduce interoperability risks, lowers program costs and accelerates time to market. Our system solutions range from air data computers, to data recording and storage systems, networking and communications, mission computers, and video management systems.
Read the Brochure