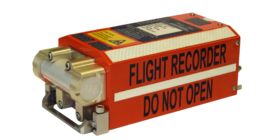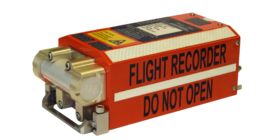 The MPFR is packaged as a compact unit ideal for the rotary-wing or small/medium aircraft market.
Features
Less than 7.0 lb (3.2kg) including underwater locator beacon
Attaches directly to the airframe
Maximum 12W of power at 28Vdc
Fast Ethernet and wireless data recovery options
25,000 hours MTBF
Applications
Airborne data recording
Incident/accident recording and analysis
Crash recording
MPFR Multi Purpose Flight Recorder
Curtiss-Wright has developed the most versatile recorder available, in the most compact package, fully approved for current and anticipated requirements. On-aircraft download is achieved in less than two minutes and can be networked directly to a remote operational base for remote diagnostics and fault reporting.
The MPFR is packaged as a compact unit ideal for the rotary-wing or small/medium aircraft market. Importantly, this compact unit may be attached directly to the airframe without the need for bulky equipment racks or anti-vibration mounts, thus permitting optimum aircraft performance to be attained for lower operating costs.
Based on state-of-the-art solid-state memory systems, the MPFR features also include 4-channel voice recording for 120 minutes (one wide band, 3 narrow band audio channels), a rotor tachometer interface, 25 hours of flight data recording at 512 words/second and provision for HUMS data recording. Higher FDR data rates up to 1,024 words per second are available, making MPFR ideal for general aviation or flight test recording. Information retrieval is made via a 10/100MB Fast Ethernet interface directly to a portable transfer device or analysis PC using standard network hardware and protocols, alternatively, the connection may be made to transfer FDR data via an aircraft Wireless Data Link (WDL).
The MPFR exceeds the requirements of EUROCAE and FAA requirements ED-112, ETSO-C123b, and ETSO-C124b, and is qualified to RTCA/DO-160F and designed in accordance with RTCA/DO-178B.
Fortress Flight Recorders Brochure
Curtiss-Wright has been designing flight recorders for over 60 years. Fortress, our latest product line, meets all current and anticipated regulations, including ED-112A and 25-hour voice / datalink recording. Additionally, it is a highly flexible platform with the ability to collect and process custom data sets for various applications including maintenance operations.
Learn More