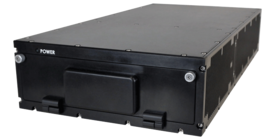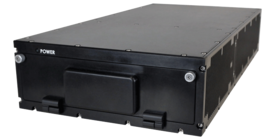 The HSR40 conduction-cooled Network Attached Storage (NAS) utilizes high-density NVMe SSDs for high speed applications to eliminate system bottlenecks.
Key Features
2 x 40 GbE
1 x 1 GbE (control)
Over 6 GB per second throughput
Network File Server or Streaming Recorder
40 TB removable storage
Optional AES-256 encryption
Low-profile design
Multiple mounting options
Conduction-cooled
Applications
Fixed-wing ISR aircraft
Test and Instrumentation
Ground based radar
Radar test labs
HSR40 CC - 40GbE Network Attached Storage
Modern aerospace and military intelligence, surveillance, and reconnaissance (ISR) platforms, some incorporating hundreds of cameras and sensors, are generating an unprecedented amount of highly sensitive data that must be captured and securely stored without compromising performance. As an increasing number of high-performance sensors are used, system designers need to ensure that the data capture system can cope with the large amounts of data they produce. With two multi-core Intel Xeon D processors and two 40 Gigabit Ethernet (GbE) ports, the HSR40 can handle the most demanding sensor recording applications.
40 Gigabit Ethernet
Curtiss-Wright's CHAMP-XD2 digital signal processor (DSP) card handles the incoming data and features two multi-core Xeon D processors and two built-in 40 GbE interfaces. The processor hosts a Linux operating system and runs the HSR40 data recording and storing application. The processors can easily absorb the incoming data and redirect it to the persistent storage media, using 3rd generation PCI Express (PCIe), enabling the efficient movement of all the data. By keeping the data as PCIe (instead of converting it to SATA), the data can be directly pipelined over the backplane to the PCIe-based non-volatile memory express (NVMe) solid-state drives (SSD).
Fast, Removable Storage
To eliminate system bottlenecks, the HSR40 utilizes high-speed, high-density NVMe SSDs. This type of memory is widely supported today, with commercial applications driving demand for increased performance and capacity. The SSDs are installed onto two Removable Memory Blades (RMB), each with a maximum capacity of 20 TB. The RMBs allow for quick data off-loading for post-mission analysis. The RMB has been designed for long program life with 10,000 insertion cycle connectors.