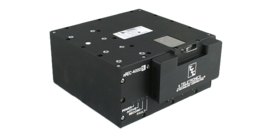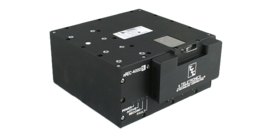 The nREC-4000S-2 is an intelligent IP flight recorder.
Key Features
Intelligent, network-based IP flight recorder
High-speed data recording:

Up to 200 MBps data recording rate
Two Gigabit Ethernet interfaces for data

Integrates one media storage cartridge

Capacities up to 256 GB of solid-state memory
Commercial temperature range cartridges available for 128 GB
Secure erase cartridges available for 128 GB

Processor-based recorder

Reporting of recorder statistics, including performance and storage remaining
Real-time health monitoring
Support for Simple Network Management Protocol (SNMP)

Supports IEEE 1588 time protocol
IRIG AC/DC time input
IRIG DC time output
1PPS output
100/1000BASE-T Ethernet download port
Serial RS-232/422 console port
General-purpose input/output
Ruggedized for airborne applications
22 to 36VDC power supply to support operation from standard aircraft power and supports power hold up, up to 50 milliseconds
Compatible with aerospace instrumentation's network-based acquisition systems
Applications
Airborne networked recording
High-speed airborne recording
TTC nREC-4000S Airborne Network Flight Recorder
The nREC-4000S-2 is an intelligent IP flight recorder. The unit records data from network-based data acquisition and multiplexing devices and, with built-in intelligence, supports extensive recorder statistics and provides continuous health monitoring.
The nREC-4000S-2 accepts solid-state memory cartridges that use Serial ATA (SATA)-based media with drive capacities of 128 GB or 256 GB. Recorded data is recovered by downloading it over a Gigabit Ethernet interface or by removing a media cartridge and placing it in a data transfer unit (DTU-4500S-2) connected to a PC. Files are dragged and dropped from the DTU to the PC.
The nREC-4000S-2 unit is plug-and-play, requires minimal configuration, and supports Simple Network Management Protocol (SNMP). The nREC-4000S-2 recorder can be configured, monitored, and controlled either by a console attached to the RS-232/422 port or over the network using TTCWare configuration and TTCNMS monitoring software.
Aerospace Instrumentation Brochure
Modern aerospace instrumentation systems can be highly complex, and it can be difficult to know how to meet program needs. It's not unusual for requirements to change during a campaign and cause significant delays, and data must be captured reliably no matter what – otherwise expensive additional flights will be needed or months of program data could be lost. Read our brochure to learn how you can reduce your risk with commercial off-the-shelf (COTS) solutions.
Learn More