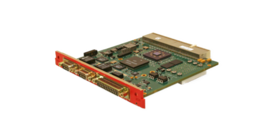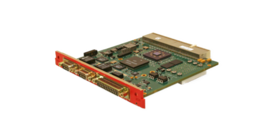 The OVH-380-1 high-speed airborne instrumentation multiplexer overhead board is the main processing board for the AIM and HS-AVDAU product families.
Features
Controls the AIM or HS-AVDAU backplane bus
2 GB DDR SDRAM and 512 MB flash memory
Serial ports for system programming, console access, and external communication
Four general-purpose LVTTL inputs and four general-purpose opto-coupled outputs
Two Gigabit Ethernet ports and one Fast Ethernet port
Applications
Distributed systems
CAIS applications
Radar data recording
TTC OVH-380-1 High-Speed Multiplexer Overhead Board
The OVH-380 is the processor-based controller (overhead) board for the AIM/HS-AVDAU-200XE. It stores and executes the operating system, application software, and drivers and terminates the IP stack for Ethernet support. It also receives and formats inbound (acquired) data. When the OVH-380-1 is used in the AIM, it can transmit data to a recorder through one or two 100/1000BASE-T Ethernet ports. The OVH-380 is partnered with an RCI-385-1 CAIS and IRIG interface board using an expansion connector.