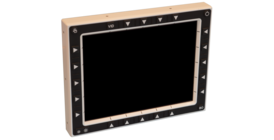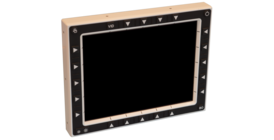 Curtiss-Wright has decades of industry-leading experience developing reliable, rugged mission displays for extreme environments. The GVA-compliant GVDU3000-902 display has some of the best specifications on the market, with an IP68 rating and MIL-STD-810, -461, and -1275 qualifications.
Key Features
MIL-STD rugged design
IP68 rating
High brightness, high contrast screen
Sealed interface connectors
GVA bezel buttons
DVI video input
Glove operable projected capacitive touchscreen
Flexible mounting options
Applications
Intelligence, surveillance, and reconnaissance
Situational awareness
Maps and navigation
GVDU3000-902 IP68 Rugged Touchscreen Display
Military and government agencies need rugged mission video displays that operate reliably in harsh environments. The GVA-compliant GVDU3000-902 extends the performance of other GDVU modules with an IP68 protection rating and MIL-STD-810, -461, and -1275 qualifications.
It provides market-leading performance and a rich, flexible set of features, including GVA bezel buttons, optically-bonded glass for perfect anytime readability, as well as full touchscreen operation based on a unique projected capacitive touchscreen that offers multi-touch as well as gloved and wet operation.
Video is accepted as DVI-D, suitable for direct connection to mission or map computers. The displays feature USB 2.0 interfaces to implement the touchscreen and bezel button interface.
The GVDU offers market-leading anytime visibility using powerful LED backlights and optical bonding to reduce internal reflection and enhance contrast, making them suitable for use in conditions of high incident light.
With decades of experience providing sophisticated computing systems to defense land vehicles, Curtiss-Wright knows that special environmental requirements are common. We can generally accommodate special requests for assessing and qualifying displays where required.
Minimizing Glass-to-Glass Latency and Enhancing Situational Awareness
The critical delays caused by video latency can mean warfighters inside the vehicle are unaware of an approaching enemy, man-made or natural obstacles, or warfighters or civilians outside the vehicle until it's too late. The key to increasing situational awareness for today's ground combat vehicles is designing a video management system that reduces latency from end to end. From the cameras to the ruggedized displays – each component in the video management system needs to be designed with low latency in mind.