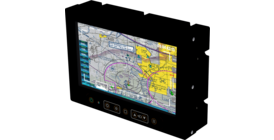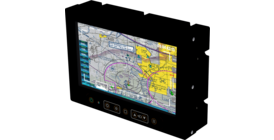 The SVDU-M (Single Video Display Unit with Multi-touch) range of rugged mission displays offers a unique combination of new technology that includes optically-bonded glass, and new multi-touch projective capacitive (PCAP) touchscreen operation that maintains reliability and responsiveness even when the operator is wearing gloves or the screen is wet. Supporting a single DVI input and a USB touchscreen, the SVDU-M range is the ideal companion to a mission computer.
Key Features
Anytime readability
Very high brightness
Multi-touch PCAP touch screen capability
Single DVI input
USB interface
Fully ruggedized and sealed unit
Applications
Airborne (rotary and fixed wing)
Civil (police, search and rescue) and military
Naval and ground vehicles
SVDU-M PCAP Mission Display
With PCAP touch screens, users do not need to consistently apply pressure to the screen. Instead, they can simply slide their fingers across the screen using the same intuitive, multi-touch gestures they are already familiar with to drag screen objects, zoom in and out of images, and swipe in all directions. When users can quickly and easily interact with the touch screen using motions that are second nature to them, they can focus on the task at hand.
PCAP touch screens also don't suffer from the reflection and image clarity issues that resistive touch screens experience. They provide a crisper, higher quality image and higher contrast levels that make it easier for the user to see and absorb screen content at a glance while also being thinner, lighter and more rugged than resistive touch screen displays. The new SVDU-M with PCAP multi-touch display is fully qualified to established environmental standards.
The SVDU-M features a DVI video input and USB interface on a highly rugged MIL-DTL-38999 connector to provide a secure connection,even in high-vibration environments.