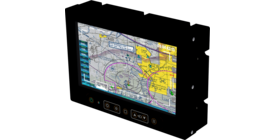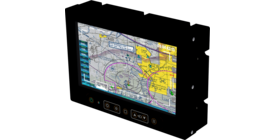 SVDU Mission Displays have full HD resolution & address a wide variety of applications on ground defense and airborne platforms. 
Key Features
High brightness; anytime readability 
Night vision compatibility 
Full touchscreen capability 
Single DVI input  
Highly configurable and field upgradeable  
Fully ruggedized and sealed unit 
Applications
Airborne (rotary and fixed wing)  
Civil (police, search and rescue) and military  
Naval and ground vehicles 
SVDU Rugged Mission Displays
Curtiss-Wrights SVDU range of rugged mission displays offers a unique combination of new technology, including optically-bonded glass, dual-mode NVIS-compatible LED backlighting, and full touchscreen operation. Supporting a single DVI input and a USB touchscreen the SVDU range is the ideal companion to a mission computer. 
SVDU mission displays are currently available in six display sizes and resolutions, and two types of touchscreen panels, to address a wide variety of applications on ground, airborne and naval platforms. All the displays are fully qualified to established environmental standards.
The displays feature a DVI video input and USB interface on a highly rugged 38999 connector to provide a secure connection even in highvibration environments, with the added benefits of environmental protection offered by this type of connector.
Projected Capacitive Touchscreen Technology
The newest display in the SVDU range (SVDU-M) is a 7 inch display with a projected capacitive (PCAP) multi-touch panel.  PCAP multipoint touchscreen technology enables operators to use familiar smartphone interface techniques to annotate, draw and manipulate screen images. In contrast, traditional resistive touch screens are only able to respond to the touch of a single finger. To learn more about PCAP read the white paper Smartphone Like Touchscreens in Defense and Aerospace.
Daylight Visibility 
The displays offer market-leading daylight visibility by means of powerful LED backlights and optical bonding to reduce internal reflection and enhance contrast. The mission displays are suitable for use in conditions of high incident light including open cockpits. 
Night Vision 
Night Vision Goggle (NVG) compatibility to MIL-STD3009 NVIS B as standard. The display is fitted with a dual-LED light source including NVG-filtered LEDs at low levels for NVG operations. All front-panel LEDs and key backlighting are NVG-filtered. The brightness of the bezel lighting is controlled along with the brightness control of the display, but can be customized to connect to an aircraft lighting bus. 
| Product | Size | Aspect Ratio | Resolution |
| --- | --- | --- | --- |
| *NEW* SVDU1800-M-000 | 7" | 16:9 | 1920x1080 |
| SVDU1800 | 7" | 16:9 | 1920x1080 |
| SVDU2600 | 10.4" | 4:3 | 1024x768 |
| SVDU3000 | 12.1" | 16:10 | 1280x800 |
| SVDU3600 | 14.1" | 16:10 | 1280x800 |
| SVDU4310 | 17.3" | 16:9 | 1920x1080 |
| SVDU5500 | 21.5" | 16:9 | 1920x1080 |