Video Management System Ancillary Products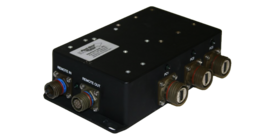 Overview
Specifications
Downloads
Featured Products
Request a Quote
Product Support
To complement our range of displays, video recorders and video distribution units, Curtiss-Wright Defense Solutions offers ancillary products that can bring additional capabilities to a video management system.
Keyboard
Video Converters
Interface Units
Recorder and Display Remote Controls
PANL-1588 Keyboard
Curtiss-Wright offers a rugged, back lit solution for users who require a keyboard and mouse to operate on-board computers and moving map systems. When connected to a Curtiss-Wright display, this QWERTY keyboard, via an IUPC interface unit, will automatically control the computer/map being viewed. Various language layouts are available.
Video Converters
A range of video converters are available to convert various video formats. Current converters include:
CUGV-1050 This unit is used to convert an RGBHV (VGA) input to a composite output and a channel of RGsB input to a composite output.
RAIU-2000  This is a specific converter for the Telephonics RDR1500 radar, taking the output and converting it to standard VGA for use in an AVDU series display.
Interface Units
In order to interface various control commands from the displays to connected third party equipment such as digital moving maps or PCs, we offer interface units to put these commands onto the Remote Bus that links all Curtiss-Wright video management units together.
IUPC-8012-02
This is an interface unit for up to three PCs connected to the system via USB. This allows keyboard and mouse commands to be sent to the appropriate PC, as selected via the display.
IUPT-8016-01
This is also an interface for up to three PCs connected to the system via USB, but allows touch screen commands from the connected displays in the system to communicate with the PC. (Please note that the PC must have appropriate drivers, and Curtiss-Wright will require the appropriate touch screen protocol).
Recorder and Display Remote Controls
We can provide various remote control panels for both displays and recorders, where space is an issue or where another user needs control but may not be able to access the primary unit.
PANL-2016
A video recorder remote control panel, primarily used with the VRDV-3000 recorder. The unit replicates all the controls that are available on the recorder itself. It has the same dimensions as the VRDV-3000 in height and width, but is significantly reduced in depth. The units are linked using the remote bus, and can be mounted using the Dzus fixings into any cockpit or operator console.
PANL-2019
The PANL-2019 is a remote control panel used with Curtiss-Wright video switches, recorders and displays. It includes front-panel push buttons with individual illumination and a two-line 16-character backlit LCD. This unit is Dzus-mounted and connects to the controlled units using a shared remote bus.
Video Management System Ancillary Products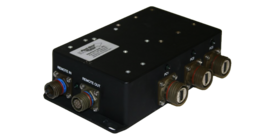 Connect with Curtiss-Wright