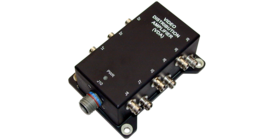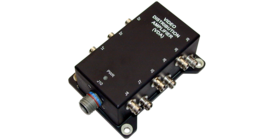 The VDA Video Distribution Amplifier (SYS-C314) is a line replaceable unit (LRU) developed in order to replicate RGB analog video.
Key Features
Low power consumption
Small size
Low mass
Robust design
Customizable options, for example, connections, finish and impedance
Support for a wide range of video types
Applications
Airborne
Ground vehicles
Naval
VDA/SYS-C314 Video Distribution Amplifier
The VDA is a line replaceable unit (LRU) that replicates RGB Analog video so that one video source can be routed to two destinations – for example, sending the output from a computer to two console displays or sending a copy of a display to a recorder.
Small and rugged, the VDA has been qualified for airborne applications and is available off-the-shelf or as part of a custom solution.