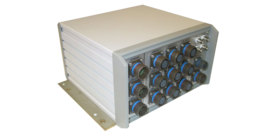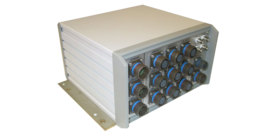 The VDSU-1407 video conversion & distribution unit is designed to simplify the routing of multiple video and VGA signals on surveillance aircraft.
Comprehensive video routing and switching
The heart of the Video Management System (VMS)
Takes care of video signal strength even when being routed to multiple displays
Converts VGA to video to enable images such as moving maps to be recorded or transmitted in composite/XC
Enables multiple video sources to be viewed simultaneously on multiple user's displays
Removes the need for complex aircraft wiring by using fewer cables
Enables video routing to be changed in flight (for example, the user can select which signal to send to video recorders or downlinks on the fly)
Provides touch screen commands from any display to any peripheral
Quad image generation (option)
VDSU-1407 Video Distribution Unit
The VDSU-1407 comprehensive video conversion and distribution units were designed to simplify routing multiple videos and VGA signals on surveillance aircraft. Typically, the video distribution system is used in applications where multiple video inputs (for example, video inputs from a multi-sensor gyrostabilized camera system) and additional signals from moving maps, mission computers, video recorders, and up/downlinks need to be routed to multiple displays in the aircraft.
The VDSU-1407 offers aircraft integrators and installers a modern solution to traditional complex aircraft installations and simplified cabling, which delivers cost and weight savings. When used with other Curtiss-Wright products in a full Video Management System (VMS), the VDSU-1407 video routing and switching system offer the user the most advanced and effective mission system available in the airborne surveillance market today.