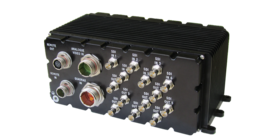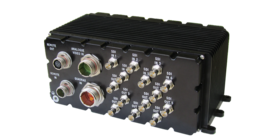 The VDSU-1420 is a High Definition video distribution unit for rugged and airborne environments.
Key Features
10x High-definition Inputs
4x Analog inputs
8x High-definition switchable outputs
Fully integrated with Curtiss-Wright displays and HD recorders
Numerous HD resolutions supported
Compliments the successful SD distribution units, the VDSU-1407 and VADU-9110
VDSU-1420 HD Video Distribution Unit
The VDSU-1420 high-definition video distribution unit easily integrates into the Curtiss-Wright video management system solutions product line. With the use of HD-SDI signals from airborne EO turrets becoming the standard, and other mission video sources such as digital moving maps are now available with digital outputs in HD, Curtiss-Wright is pleased to offer a VDSU-1420 video distribution system as the solution for your HD distribution needs. This unit will allow up to 10 HD inputs to be switched to any 8 SDI outputs at various resolutions up to 1920x1080p, 60Hz.
The VDSU-1420 switching unit can be the heart of an HD Video Management System (VMS), connecting multiple inputs to connected mission displays, video recorders, and downlinks. The HD VMS allows any user to select any input on any integrated device. The video distribution unit is controlled using a Curtiss-Wright display or remote panel. The product can also be used in conjunction with a Curtiss-Wright analog video distribution unit for systems that require different signal formats switched around the aircraft.
The high-definition VMS is further complemented by using the optional HD quads available in the VDSU-1420 video distribution unit. The HD quad generator allows 4 HD widescreen images to be displayed simultaneously, allowing the user to see all of his mission-critical videos in a single glance. As part of an appropriately configured Curtiss-Wright Video Management System, a given video input can be brought up to full screen at any time by simply touching the corresponding quad segment on a touchscreen-enabled Curtiss-Wright display.