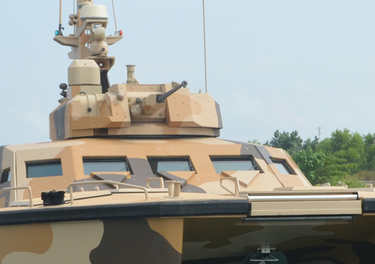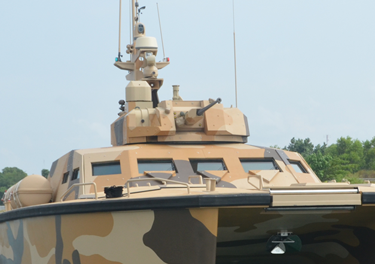 Case studies
July 27, 2022
Proven Aiming and Stabilization Brings Maximum Effectiveness from Land to Sea
Motion control systems for defense applications often require high-speed movements and extreme precision, resulting in highly accurate and consistent load positioning while operating in conditions not often seen in industrial applications. Well-versed in the capabilities of Curtiss-Wright's turret drive stabilization system (TDSS), John Cockerill Defense turned to a proven solution in outfitting their concept vehicle, the "Antasena" combat boat.
The hybrid vehicle blurs the lines between boat and tank. Outfitted with the Cockerill® 3030 weapon system, the X18 Tank Boat "Antasena" would require an aiming and stabilization solution capable of delivering maximum effectiveness during open water operation. In addition to the unique behavioral and environmental operation conditions, John Cockerill Defense required a flexible solution that would enable their customers to cost-effectively evolve their weapons systems over time.
In this case study, discover how one customer harnessed the power of a purpose-built motion control system to successfully deliver a unique solution to navies around the world.
Log in and download the case study to learn more.