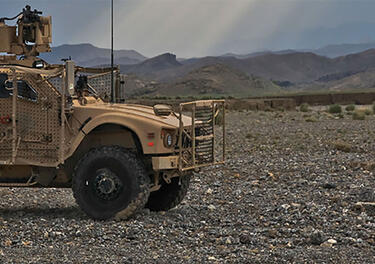 Rugged Networking-on-the-Move
In battlefield environments, the fight does not stop just because you are moving, putting warfighters at a distinct disadvantage if they cannot maintain situational awareness at all times. To maintain information dominance, warfighters across all branches of the military require networking on-the-move to stay on top of complex threat environments.
Networking on-the-move capabilities are increasingly critical to today's warfighter, as adversaries equip themselves with the latest wireless technology and smartphones while actively moving in ground vehicles. Internet Protocol (IP) networking on-the-move is a necessary response by DoD to counter the many foes who have ready access to this technology, and it is making US warfighters more agile and prepared.
Deploying networking equipment in vehicles (and also in command posts and fly-away kits) has many challenges – including space constraints, power and fuel constraints, and environmental extremes. Yet, increasing requirements to deploy more communications, networking, wireless and cyber capabilities at the edge conflict with goals to reduce the size, weight and power of deployed equipment.
To meet these conflicting demands, future programs are starting to look to small form factor networking and communications equipment – delivering more capability to the edge, while reducing SWaP and improving reliability. This whitepaper outlines what programs should look for in designs and test procedures to ensure that this new generation of equipment is up to the challenge.
Log in and download the white paper to learn more.