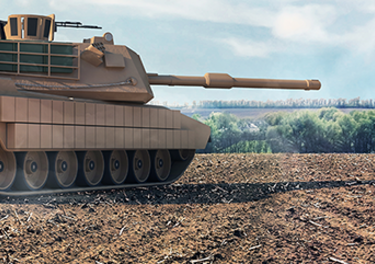 Article
December 01, 2022
DoD's MOSA Mandate Drives CMOSS Approach to A-PNT
Published in Military Embedded Systems
Written by Jason DeChiaro
The U.S. Army's Mounted Assured PNT System (MAPS) program was initiated to replace existing GPS receivers and antennas in most of the Army's ground vehicle variants, eliminating redundancy. The program is overseen by PM-PNT at the Army's Aberdeen Proving Ground in Maryland, where mounted and dismounted position, navigation, and timing (PNT) technologies for the Army are developed and managed.
The first iteration of Mounted Assured PNT System (MAPS) systems, known as "MAPS GEN I," are able to distribute PNT data directly to multiple systems on a vehicle, replacing the need for multiple GPS devices – a common situation – on a single platform. The first U.S. MAPS GEN I system was first operationally deployed by the U.S. Army in 2019.
The follow-on generation of the program, MAPS GEN II, adds additional capabilities to enable an Assured PNT (A-PNT) solution that uses multiple sensors and multiple sources to provide PNT information in environments where access to trusted GPS data is diminished or denied.
Today, most PNT solutions are stovepiped or isolated systems. For the next generation of MAPS technology, the U.S. Army – in an attempt to seek a better way to operate – has directed industry that it wants to move from the closed-system approach employed in MAPS GEN I and MAPS GEN II and move instead to an open architecture CMOSS [C5ISR/EW Modular Open Suite of Standards]-based design to bring the program in line with the U.S. Department of Defense (DoD) mandate for modular open system approach (MOSA)-based solutions. In addition to combating vendor lock, a CMOSS-based MAPS solution using industry-standard OpenVPX form factor cards, will improve the Army's ability to respond quickly to emerging threats, no matter what they might be.
Assured Positioning, Navigation and Timing (A-PNT) Solutions
Our assured positioning, navigation, and timing (A-PNT) solutions are designed to provide ground vehicles with access to trusted PNT information while operating in conditions with limited, impeded, or denied GPS/GNSS. Cost-effective, simple to configure, and size, weight, and power (SWaP)-optimized, our modules and systems are rapidly deployable on both combat and tactical wheeled vehicle platforms.
C5ISR/EW Modular Open Suite of Standards (CMOSS)
Engineered for Seamless Integration