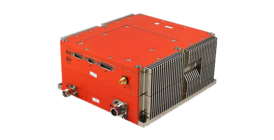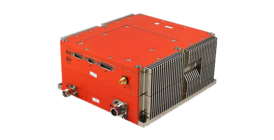 The nXCVR-3140A-2 Airborne Wireless C-Band Network Transceiver is designed for air-to-ground and ground-to-air wireless TmNS-based communications.
Key Features
High-speed airborne wireless transmission and reception with up to 20 Mbps throughput
SOQPK technology for efficient transmission & reception in harsh environments
An RS-232/422 serial console port on J1 for configuration and troubleshooting
Zeroize, which when connected to digital ground makes any coefficients stored in non-volatile memory read zero
IP reset, which when connected to digital ground resets the unit to its default configuration
IEEE 1588 PTP one pulse per second (1PPS) output synchronized to the PTP time
A Gigabit Ethernet port on J2 that supports 100/1000BASE-T and transfers packet data into and out of the transceiver
An RF antenna at RF1 connects to the transmit and receive antennas. Impedance is 50 Ohms
A GPS antenna connector on J4 connects to an external antenna to receive GPS time information
An auxiliary 25-pin diagnostic and serial/Fast Ethernet port (J3)

One 100BASE-T Ethernet port for management, software updates, and statistics gathering
Three RS-422 channels
One general-purpose, opto-isolated output and a general-purpose output signal return
Applications
High-speed airborne networks
Airborne use for wireless communication with ground systems
Ground use for wireless communication with multiple airborne test articles
TTC nXCVR-3140A-2 Airborne Wireless C-Band Network Transceiver
The nXCVR-3140A-2 IP transceiver is designed for air-to-ground and ground-to-air wireless TmNS-based communications. The transceivers work together to perform wireless router functions, transparently connecting two or more radios in a point-to-point or multipoint configuration. Bandwidth is shared among the multiple users; each radio is allocated zero, one or more timeslots to transmit packets and is receiving at all other times. Timeslots can be statically or dynamically allocated during network operation.
The TmNS transceiver has a 100/1000BASE-T Ethernet interface for the primary routed interface, multiple serial ports for external device control, a high-speed Reduced Instruction Set Computing (RISC) processor, and a power-efficient RF transmitter and receiver module. The transceiver incorporates the latest SOQPSK technology and power-efficient capability to achieve maximum transmission and reception distance under harsh environmental conditions.
The nXCVR-3140A-2 transceiver has a fixed signal bandwidth of 15.6 MHz and the data rate is fixed at 20 Mbps. The IP transceiver fully complies with the IRIG 106-17 standard for processing speed, waveform compliance, and RF output power and supports the Simple Network Management Protocol (SNMP) for remote management and monitoring.
The nXCVR-3140A-2 transceiver has the following I/O connectors: Gigabit Ethernet, serial console, auxiliary signals, a power connector, a GPS antenna connector, and an RF antenna connector.
Exploring the Telemetry Network Standard (TmNS)
As the world realizes that all of our data is at risk of being exploited, organizations are under pressure to protect it, no matter the classification. However, this can be expensive and time-consuming, or limit foreign military sales, depending on the approach. Often, the most rigorous encryption scheme, such as the National Security Agency (NSA) Suite A cryptography, is not necessary, may be chosen due to uncertainties about other solutions. This paper describes strategies for encrypting data-at-rest and in motion, with a particular emphasis on encrypting telemetry data for applications such as flight test.