World-Class Organization to Ensure your Program Success
Curtiss-Wright has established a world-class program management organization designed to ensure the success of your system integration program and to keep you informed of your program's progress every step of the way. From the onset, we assign a dedicated program manager who is responsible for program performance and has direct access to the highest levels of management, including the general manager. Our team approach empowers project team members with full authority to accomplish their tasks. Curtiss-Wright program teams provide a level of communication and visibility rarely found in large organizations. One of the key benefits of this approach is that it enables team members to leverage the wealth of technical and business experience of our senior managers.
Program Management Capabilities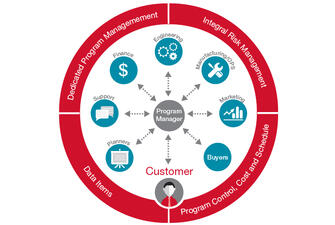 Management Tools
Our program management team employs a complete set of management tools to provide the necessary visibility into all areas of technical scope, schedule, and budget to ensure program success. These tools include:
Work Breakdown Structure (WBS)
Work authorization
Technical performance measurement
Change management
Partnering to Reduce Risk and Accelerate Development
This white paper shows that when system integrators partner with a trusted and proven solution vendor, they are freed from the time commitment and burden of trying to complete every development stage themselves. As a result, they are in a better position to keep projects on spec, on budget and on time.