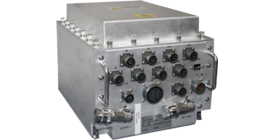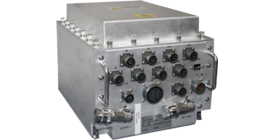 The MPMC-965x Processor System can greatly reduce up front costs & reduces recurring costs while meeting I/O, performance & environmental requirements.
Processing
Intel or NXP Power Architecture
6U Backplane
VPX, VME or VXS
Size
12.5" x 7.5" x 8.3"
Weight fully populated
40 lbs
Power
28 VDC input per MIL-STD-704E, DO-160E
Optional Interfaces
MIL-STD-1553 - Up to two dual redundant channels
ARINC 429 - Up to 32 channels
    Individually selectable as Rx or Tx
Video up to 4 outputs
   DVI, LVDS or VGA
   Optional PowerPC video processor
Video input, up to 6 channels
   NTSC, PAL, RS-170
MPMC-965x 6U 5-slot Mission Computer
The Curtiss-Wright Defense Solutions MPMC-965x family of 6U 5-slot systems are leading edge, flexible and rugged processing systems that can be readily configured to meet the needs of any military or aerospace requirements, from benign laboratory to harsh avionics environments. The MPMC-965x is an integrated information processing system, providing complete hardware and software solutions.
The MPMC-965x leverages Commercial Off the Shelf (COTS) technology in application-specific requirements to provide a high- performance, state-of-the-art computing solution. By utilizing tried and tested Curtiss-Wright COTS products, the MPMC-965x is an affordable low-risk computing system.
System Overview
The MPMC-965x is a rugged computer designed to fill multiple roles in air and land vehicles. It is a packaged COTS solution that can greatly reduce up front development costs and through achieving economies of scale in production, reduces recurring costs while meeting the I/O, performance and environmental requirements of the system.
The MPMC-965x achieves these challenging goals through high-quality engineering and designing for the future. The MPMC-965x is a modular system consisting of multiple VPX, VME or VXS backplanes, front connector interfaces, front panels, sidewalls, single board computers (SBCs) and X/PMCs (depending on selected SBC). Besides these components that already have multiple implementations, the power supply is modular and may have multiple implementations in the future.
The MPMC-965x is a 5-slot 6U system that supports VPX, VME or VXS form factors. It allows up to five SBCs (or PMC carrier cards), 12 X/PMC modules (depending on chosen SBC) and one integrated fiber switch be housed in liquid-flow-through cooled chassis. The MPMC-965x can be configured to support both Power Architecture and Intel-based SBCs.
Technology Readiness Level
Curtiss-Wright goes well beyond standard industry processes to deliver ruggedized solutions with trusted and proven reliability that cannot be matched in the industry.