Increase performance with flexible, automated systems
Ammunition handling systems are a critical component onboard many of today's military programs. Our ammunition handling and loading systems enable non-stop performance with highly reliable loading cycles and increase the safety of crew members by eliminating the manual handling of ammunition. Flexible in their design, we can bring the benefits of our high-speed precision motion control systems to a wide variety of platforms, spaces, and locations.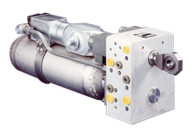 Learn More
Hydraulic Ramming
Accelerate rates of fire, ensure enduring firepower, and enable non-stop performance with state-of-the-art electrohydraulic flick rammers.
High-Speed, High-Precision Motion Control Solutions for Critical Defense Systems
Bring new levels of speed and accuracy to mission-critical defense systems with rugged, high-precision, and fully configurable motion control solutions. See our full range of scalable solutions designed to control and stabilize complex defense systems.
Read the Brochure
Strengthen your bid for next-generation ground combat vehicles
Access the industry's broadest product portfolio of field-proven solutions, designed with a Modular Open Systems Approach (MOSA) to bring future capabilities to the frontlines today.