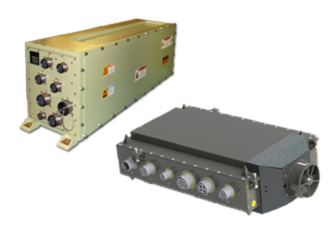 Deliver Supercomputing Processing Performance
HPEC Systems have a proven track record to deliver supercomputing processing performance in rugged, compact deployable system architectures optimized for harsh military environments. These systems consist of a large number of distributed processors, I/O, and software stacks connected by a low latency system fabric. With scalable architectures, dataflow modeling and configuration validation, Curtiss-Wright's HPEC customers can source embedded supercomputing platforms that integrate Intel-based multi-processor boards with AVX, GPGPU co-processors, AMD Adaptive SoCs and FPGAs, and Ethernet switching with software, including VxWorks, and Linux with OpenMPI and OFED software interfaces, using latest fielded thermal management systems like VITA 48.5 Air Flow Through Technology.
Fabric100 Processing and Networking Solutions
As the complexity of data processing for defense and aerospace applications increases, system designers must adapt to the latest proven technologies to deliver faster processing and information sharing. To address this challenge, our next generation of embedded computing cards and systems will feature Fabric100™ connectivity within systems and through optical links between systems. Fabric100 delivers uncompromised 100Gbps data processing and information sharing across the platform and is built upon and compatible with our proven Fabric40™ (40GbE) technology.
6U Fabric40 Processing & Networking Solutions
Fabric40 is a complete end-to-end system approach for integrating the high-speed 40 Gbps fabrics into high-performance processing systems that cannot afford to compromise on performance.
Understanding HPEC Computing: The Ten Axioms
The technologies that comprise an HPEC system are primarily derived from three distinct markets - the Commercial HPC, Embedded Systems and the Sensor markets. HPEC tracks and benefits from advances in the technologies that service these markets. As their technologies evolve, the HPEC market adapts by selecting the appropriate technologies that meet the Ten Axioms of HPEC that define the essential elements of an HPEC system.
3U Fabric40 Processing Solutions
These small form factor modules provide system integrators with high-performance CPU and GPGPU processing seamlessly interoperate over the 40Gb Ethernet and PCIe interconnects.
An Introduction to Fabric40
Today's most demanding military applications, such as large-scale radar arrays, image processing, and real-time data exploitation, require the greater computational performance and the higher bandwidth access to the resulting data provided by leading-edge HPEC systems. This white paper describes the benefits of using the 40 Gbps interconnects for use in defense and aerospace rugged deployed COTS systems.
6U Fabric20 Processing & Networking Solutions
Fabric20 OpenVPX modules allow system designers to rapidly integrate CPU, FPGA, GPGPU, switch and IO modules based on RapidIO Gen 2 (20Gb/sec) and PCIe interconnects to create processing solutions.
Airborne Mission System Optimized for a Customer Software Suite
Complex airborne surveillance and intelligence gathering missions rely on the collection and amalgamation of data from many sensors. As the number of onboard sensors continue to increase, defense organizations worldwide expect more capabilities and higher performance from mission systems. Read the case study to learn more about the mission system used to solve the performance challenges.
The Fabric40 Advantage: 40Gbps Technology
Enhances Interoperability While Reducing Integration Risk and Development Time
Curtiss-Wright's innovative Fabric40 initiative ensures that all aspects of 40Gbps data fabric technology are optimally configured to work together, enhancing interoperability and reducing customer integration risks and development time. We take the risk out of extreme OpenVPX Gen3 signaling. Fabric40 is the industry's first complete end-to-end system approach for integrating the latest Gen3 high-speed 40 Gbps fabrics into a new generation of radar processing, SIGINT, image processing and Electronic Warfare systems that cannot afford to compromise on performance. Curtiss-Wright enables Fabric40 with a broad range of complementary modules designed to reduce the cost, risk, and complexity associated with your system integration – all while delivering over 2x the performance of previous-generation SRIO Gen-2-based systems and 4x the performance of 10 GbE-based systems.
Five Benefits of Fabric40
Reduces Signal Integrity Risks
All Fabric40 products have been developed with highly optimized signal integrity design rules to ensure that high-speed signals are not compromised when interconnects are operating at Gen3 speeds.
Fabric Agnostic
Fabric40 allows system integrators to build optimally configured HPEC systems using the latest high-speed fabrics. Fabric40 supports Ethernet, PCIe Gen3 and InfiniBand protocols with data rates up to 40Gbps to ensure your processing nodes are not starved, waiting for data. Ethernet is supported using industry standard 10G and 40G interconnects, and InfiniBand supports data rates of SDR (10G), DDR (20G) and both QDR and FDR-10 (40G). PCIe Gen3 supports 8G full duplex transmission per lane.
Supports RDMA
Fabric40 drivers are optimally configured to take advantage of these high-speed rates. To ensure that processing engines and CPUs are not burdened by high-speed data transfers, all Fabric40 modules support Remote Direct Memory Access (RDMA) in both GbE and InfiniBand modes.
Middleware Ties it all Together
The Fabric40 ecosystem also includes middleware software enablement such as IPC and OFED/MPI interfaces, which are highly optimized to support next-generation 40 Gbps systems. These software interfaces provide a high level abstraction of fabrics, operating systems, and even processors, shielding your application from vendor and implementation-specific details, enhancing portability and meeting MOSA requirements.
End-to-End Solutions
Fabric40 system elements from Curtiss-Wright and ecosystem partners such as Atrenne provide a complete system solution, including SBCs, DSP and FPGA engines, GPGPU processors, network switches, chassis and backplanes. You can be confident that your entire next-generation system will work together reliably from end-to-end.
Pervasive Coverage of the Electromagnetic Spectrum with a Next Generation COMINT/ELINT Signal Analysis Methodology
This white paper explores why yesterday's solution falls short today, how technological advances in the multi-channel signal analysis have provided new levels of RF emitter tracking, and how Curtiss-Wright Defense Solutions and Leonardo DRS Signal Solutions plan to continue to break through game-changing barriers.