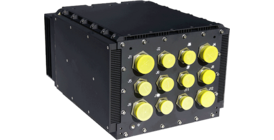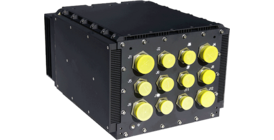 The MPMC-9675 Mission Computer offers 7-slots of 6U VME, VPX, VXS, or hybrid processor and I/O cards for a technology refresh, signal, video, or image processing.
Form Factor
1 ATR
6U OpenVPX/VME/Hybrid backplane
Volume Optimized Size
single-slot chassis - 287 (w) x 211 (h) x 420 (d) mm
Weight
Under 20 kg fully populated
Power
28 VDC or 115 VAC
600 W at 55 °C
310 W at 71 °C
Subsystem Solutions
Technology refresh – easy retrofit
Signal processing
Video and image processing
And more...
MPMC-9675 6U 7-slot Mission Computer
The MPMC-9675 is one of the largest members of the Multi-Platform Mission Computer family. Packaged in a 1 ATR form factor, the MPMC-9675 is a rugged computer designed to fill multiple roles in air and land vehicles. The MPMC-9675 mission computer can significantly reduce up-front development costs. Economies of scale in production reduce recurring costs while meeting the system's I/O, performance, and environmental requirements. The MPMC-9675 achieves these challenging goals through high-quality engineering and design for the future.
The MPMC-9675 is a modular system with multiple options for VME, VPX, VXS, or hybrid backplanes and front panel connector interfaces. The payload cards can be configured with a wide variety of interface options available onboard or through the use of PMC and XMC mezzanines targeted at military applications. In addition, the power supply unit (PSU) design is modular, supporting DC and AC inputs.
The MPMC-9675 is a 7-slot 6U system that supports VME, VPX, or VXS form factors. It allows up to seven single-board computers (SBCs) or PMC carrier cards, 12 X/PMC modules (depending on chosen SBC), and a PSU to be housed in a forced air-cooled chassis. The MPMC-9675 can be configured to support both Power Architecture and Intel-based SBCs and FPGA-based and hybrid processing solutions.
The MPMC-9675 features forced air cooling technology utilizing a rugged integral fan. The payload cards are sealed within the system. Heat is conducted from the cards through the sidewalls of the enclosure and dissipated in the airflow by the cooling fins on the side of the enclosure. The fan draws air from the front of the system, passes it over the cooling fins, and exhausts it at the rear of the system.
To ensure the highest performance levels, the MPMC-9675 chassis has been designed to meet or surpass MIL-STD-810 Qualifications for Military Equipment and DO-160F Environmental Conditions for Airborne Equipment.
Note: *This system is controlled by UK export regulations. If imported into the USA, re-export may be USA EAR or ITAR controlled.