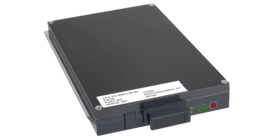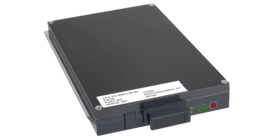 Based around industry standard 2.5" SATA Solid State Drives (SSD), the Removable Memory Cartridge is scalable and adaptable to wide variety of applications that require removable yet rugged storage.
Key Features
100K cycle connector
2.5" SATA SSD
256 GB to 8 TB
Programmable LED Indicators
Designed for transport
Applications
Network-attached storage
Direct attached storage
Sensor data recording
Mission data recording
Cockpit data loader
Removable Memory Cartridge (RMC)
The Removable Memory Cartridge (RMC) is a direct attached storage device specifically designed for rugged, deployed applications. With a 100,000 insertion cycle connector, the RMC was designed to withstand years of insertion and removal for data storage and transport. Based on industry standard 2.5" SATA Solid State Drives (SSD), the RMC is scalable from 256 GB to 8 TB today but can adapt to new SSDs in the future. The MIL QPL connector is non-proprietary and so mating connectors are readily available.
The use of 2.5" SATA drives also allows a wide variety of SSD types and capacities to be used. For large storage applications, MLC NAND Flash SSDs can provide up to 8 TB in a single RMC. Alternatively, an empty RMC can be purchased with an SSD of your choice. This could include SSDs certified to encryption standards required by your program.
For lab or other benign applications, less costly MLC NAND Flash SSDs can be used. Highlights of the small, easily portable RMC include:
| Features | Benefits |
| --- | --- |
| 2.5" SATA SSD based  | Obsolescence mitigation |
| Small size | Fits in a shirt pocket |
| LED Indicators | Quick visual status |
| 100,000 cycle connector | Long program life |
| MIL-DTL-55302 QPL'D Connector | Non-proprietary |
| Special handle | Gloved-hand removal |
| 256GB, 1TB, 2TB, 4TB and 8TB | Scalable storage |

Small and easily portable
The rugged RMC is small enough to fit a shirt pocket or flight suit pocket, making it ideal for data transport applications such as cockpit data loaders or data recorders. The RMC is compatible with the VRD1 All-in-one Video System, DTS3 AES-256 File Server and DTS1: 1-slot Rugged Network Attached File Server.